Dec 19 — 3rd Antiphon O Radix Jesse
Posted on December 19, 2014 by
Dec 19 —  "Steady your hearts for the Lord is close at hand, and do not grumble one against the other.'   1 James 5
"Veni ad liberandum nos
Jam noli tardare."
"Come and liberate us
Come now, don't delay."
Today's Antiphon asks for patience in a demanding, sometimes brutal, world.   John Foley's haunting Advent hymn "Patience People"  fits today.    In my life experience, it fits many days.  On good days I love the patient courage all around me, ordinary people who look and act beautiful and brave.  On bad days, I need patient courage to live my commitments, and try to live a pretty elementary decent life.   Good days and bad days, the fabric of our lives, no?
The YouTube recording is 3:44 minutes.  https://www.youtube.com/watch?v=VQVE-5yfq4s
Have a blest Tuesday.
john sj
Today's Post:  "O Root of Jesse"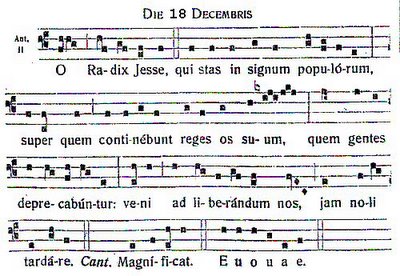 To listen to the Antiphon sung in Gregorian Chant  —>  https://www.youtube.com/watch?v=l8Z3nwkExUQ