This week, in celebration of African American History Month, I am pleased to be guest editing and to share with A Work Day in Hard Times readers some of the most recent poetry published by Broadside Lotus Press.
The 2015 merger of Dudley Randall's Broadside Press (1965) and Naomi Long Madgett's Lotus Press (1972) represented the union of two extraordinary literary heritages. Both Randall and Madgett were publishing pioneers of African American literature. The merger equally represented, however, the alignment of two powerful visions of the future of African American literature in the 21st century.
Our first Broadside Lotus Press poet, Malaika Favorite, was the winner of the 2016 Naomi Long Madgett Poetry Award. Her collection, Ascension, is rooted in the Africana folkways, lore, and history of Louisiana.  In the poem "If I Plant You, Will You Grow?" Favorite draws on many threads of her heritage to newly imagine a future for herself and, perhaps, some of her readers.
If I Plant You, Will You Grow?
My father was ordered to get off the train.
There was no room in the Colored-only section
for his bag of plus size aspirations.
He tried walking towards success,
but got no further than the house down the street,
where he met my mother. As soon as I was born,
he took out his seed-packets of dreams
and started feeding me.
I had no choice but to swallow.
Mom planted me with rules and responsibilities:
A girl must, a wife should, a woman
is expected to show only so much.
She slipped stories into my pocket:
We used to, we had to, we did what we could.
They sent me off to the Negro school,
where I was plowed into rows.
Cornrows in my hair,
cornrows in the field of memory.
Put in a seed take out a cucumber.
Put in a vine take out a sweet potato.
Drop some words, dig up a sentence.
The Negro school sharecropped me
out to the white school.
The garden there was tall,
fertilized with green bills.
They kicked me around and tried to uproot me,
but I grew myself a fence of holy words.
They transplanted me into the hothouse
of Louisiana State University
Agricultural and Mechanical College
to learn modern farming techniques —
how to plant wet words,
how to grow numbers, add,
multiply and divide large quantities of seeds,
how to extract meaning from the lines in a naked body;
how to graft oil-base paint
into fields of cotton canvas.
I became a farmer of cotton-duck,
selling by the yard at the local farmers market.
I dug up Daddy's dreams
and dusted off Momma's stories.
Replanted them in fields of washboards,
scattered them on solid white cotton pages.
I am firmly planted.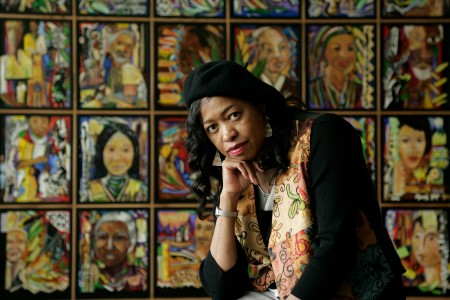 (image from the Furious Flower Poetry Center website)
Malaika Favorite is a writer and visual artist who lives in Augusta, GA. She is the author of Illuminated Manuscript and Dreaming at the Manor. Her poetry, fiction, and essays have appeared in numerous journals, including Pen International, Hurricane Blues, Drumvoices Review, Xavier Review, The Maple Leaf Rag, Visions International, Louisiana Literature, Louisiana English Journal, and Southern Quarterly. She is the winner of the 2005 Louisiana Literature Prize for Poetry. She is the artist of a major portrait painting-quilt that represents twenty-four contemporary and past poets of the African Diaspora, commissioned by Dr. Joanne Gabbin, coordinator of the Furious Flower Poetry Center.
Ascension is a collection of poems rooted in the Africana folkways, lore, and history of Louisiana. Palpable images pull the reader into the turbulent waters and horrors of the Atlantic slave trade, into homes battered by relentless rain and a flooding river, and finally to moments of contemplation and reverence for the land. With a measured, lean, and luminous style, the poet shares her intimate experience of place—home, familiar rituals, sites of historic resonance, and consciousness of the power and beauty of the natural world. 
Rosemary Weatherston, Ph.D.
Associate Professor of English
Director, Women's & Gender Studies Program
Director, Dudley Randall Center for Print Culture