Friday,  September 7,  the first full weekend in September
In Detroit where I live, a Northeast weather path brought an end to gummy sticky air that hindered breathing.  This poem happened to me during the same week when many of us are still negotiating modest compromises between summer's best and its worst.  This morning, when I stepped out for some errands,  fresh,  chilly air greeted me.  Tiny changes in weather patterns, much like an evanescent smile exchanged with a passing friend,  well . . . .  such small events refresh my spirits and imagination.  Yours too I hope.
Micro events, that's what today's poet sees and savors.
Best to read the poem out loud, with pauses.   More next week.
john sj
P.S. Thanks to Mary Catherine Harrison who introduced me to poet Mary Karr with this poem.
Today's Post  "The Voice of God"
Mary Karr
Ninety percent of what's wrong with you
could be cured with a hot bath,
says God from the bowels of the subway.
but we want magic, to win
the lottery we never bought a ticket for.
(Tenderly, the monks chant, embrace
the suffering.) The voice of God does not pander,
offers no five-year plan, no long-term
solution, nary an edict. It is small & fond & local.
Don't look for your initials in the geese
honking overhead or to see thru the glass even
darkly. It says the most obvious crap—
put down that gun, you need a sandwich.
https://en.wikipedia.org/wiki/Mary_Karr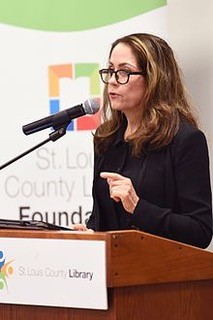 Karr speaking at the St. Louis County Library on September 8, 2016