Tuesday, December 23  —   "my little heart loses its limits in joy"
Advent ends today: three plus weeks of prophecy daring us to see the world, realistically,  as  beautiful and beloved.   That dare can shake us when Advent's antiphons compete with frightened and angry language as they surely do this election year.   Let's match the 7th O Antiphon from a thousand years ago with the first prayer-poem in Rabindranath Tagore's Gitanjali,  a song of praise from the first decades of the 20th century.    Please consider them both as an offering to each of this list's c. 2200 readers   Best to read out loud with some pauses.
Blessings during these holy days.   One more post tomorrow on what Christians call "Christmas Eve."
john sj
p.s.       Tagore died in the city of his birth, Calcutta, in 1941.  He vastly influenced poetry, sacred and secular, not only in India but around the world.  He is the first non-European to win the Nobel Prize in Literature in 1913.  If you buy Gitanjali, a book of 100 short sacred poems, prepare yourself to only read one poem at a time so you can sit with it.  Here is # 1.   These poems have no titles, only numbers.
Today's post –  Gitanjali # 1
Thou hast made me endless,  such is thy pleasure.
This frail vessel thou emptiest again and again,
and fillest it ever with fresh life.
This little flute of a reed thou hast carried over hills and dales,
and hast breathed through it melodies eternally new.
At the immortal touch of thy hands my little heart
loses its limits in joy and gives birth to utterance ineffable.
Thy infinite gifts come to me only on these very small hands of mine.
Ages pass, and still thou pourest,
and still there is room to fill.
The 7th O Antiphon,  "O Emmanuel"
O Emmanuel!  ruler  and giver of our laws,
Hope of the people from across the whole world,
Come to save us
O Lord our God.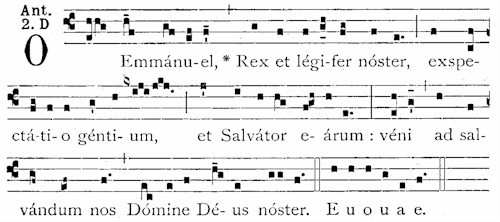 To listen to the Antiphon sung in Gregorian Chant
https://www.youtube.com/watch?v=FWGM9bJR2Cs