December 21 – winter solstice  Antiphon 5
Friday , December 21  –  O Oriens"
At Detroit's latitude we will have 9 hours and 3 minutes of daylight, 14 hours and 57 minutes of night time. Our shortest day. Today's O Antiphon, "O Oriens" ("O Rising Sun") tells us that the long-ago writers of these sung-blessings for Advent's last days lived in the northern hemisphere. Deeper & deeper into the days of diminishing light they sing to human longing for liberation and dawn. Tomorrow the day will be 3 minutes longer (I think that's accurate), the dawn of the majestic march of sunrise back from it's southern-most point of Oriens.
"O Dayspring
splendour of light and sun of justice:
Come and bring light to those who sit in darkness and the shadow of death."
These days are full of tenderness, of giving and hospitality, of forgiving old wounds, of allowing someone to forgive and welcome me when our connection had been wounded. Days, too, of longing for the healing of the world's wounds, days of taking our places in the fatigue and longings of the whole human family.
Daring days of courage. "O Oriens" is quite a prayer.
john sj
Dec 21 – 5th Antiphon O Oriens – O Dayspring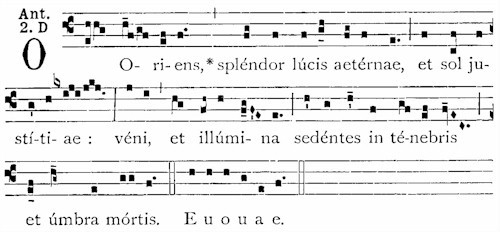 Today's Post: "O Dayspring"
To listen to the Antiphon sung in Gregorian Chant
https://www.youtube.com/watch?v=HAUzuw1l-7U
Saturday December 22,  Antiphon 6
"I have found you in the story again"
Joy Harjo published another book of poetry two years ago, "Conflict Resolution for Holy Beings."   A young friend — living in immediate grief when one of his soul friends died suddenly, age 24, while out running — he,  one of a close group of young friends living this same loss  —  pointed me toward this new poem from one of my oldest soul friends.  "Fall Song," is a new song alongside "O Antiphon 6:  O Rex Gentium," one of the oldest writings that have appeared in the Work Day/Hard Time poetry list.  Joy Harjo and the anonymous medieval artist both touch vulnerable contact points that require tenderness to work their mysteries in a demanding world.
Best to read both poems out loud, with pauses.   Blessings this 22nd of December, the day when, in our northern hemisphere, daylight begins to tip a little bit longer after touching its deepest darkness yesterday  – – the first day a little longer and the sun a little higher in the sky for us who live in the northern hemisphere.
Today's Post –  Joy Harjo, "Fall Song"
It is a dark fall day.
The earth is slightly damp with rain.
I hear a jay.
The cry is blue.
I have found you in the story again.
Is there another word for ''divine''?
I need a song that will keep sky open in my mind.
If I think behind me, I might break.
If I think forward, I lose now.
Forever will be a day like this
Strung perfectly on the necklace of days.
Slightly overcast
Yellow leaves
Your jacket hanging in the hallway
Next to mine.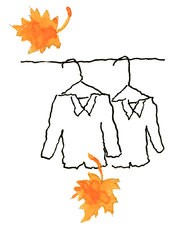 poem by Joy Harjo – Nov 13, 2015
The New York Times Magazine
john sj
Antiphon #6   "O Rex Gentium"
O Leader of many peoples,
O Leader desired by many peoples
O Corner Stone who holds such different peoples together
Come and save us human beings whom you formed out of the earth's clay.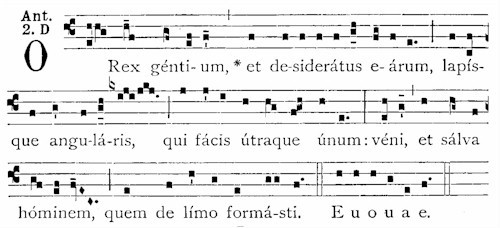 To listen to the Antiphon sung in Gregorian Chant
https://www.youtube.com/watch?v=UwDdEQCtIF4
p.s. I'm posting these two antiphons from Baden PA, home of many soul friends of 40 years, sisters of St. Joseph and former sisters of St. Joseph and some dear friends populate the Motherhouse cemetery with tender memories.  I'll leave for home tomorrow morning c. 10:00.  Depending on weather I should pull into our driveway on campus about 4:00.   Have a blest weekend, anointed with the loves of your life and with stillness.