Friday,  January 11, 2019
After Wednesday's story of Pedro Arrupe, sj in 1945 Hiroshima when the Atomic Bomb decimated the city, a soul friend of 40 +   years emailed me with several more stories from Hiroshima that day.   Sr. Gerry Finan, S.H.  (i.e.  The Society of Helpers) has lived most of her life in harsh places with communities who befriend children, women, and men who have been hounded by violence and bitter poverty (most recently a community of African refugees in The Bronx).  Here's her story, passed on by fellow Helpers who lived in Hiroshima not far from where Pedro Arrupe and his community of young Japanese Jesuits lived when the bomb fell.  Listening to stories from a day of terror and confusion in 1945 might help us 2019 readers pay attention to refugees, not only on the contentious US border, but also the c. 60,000,000 displaced women, men and children who walk the world having lost their homes.

Hiroshima,  August 6, 1945
Today's Post:    Sr. Gerry Finan, SH about August 1945 in Hiroshima
"John, did I ever tell you about the Helpers in Hiroshima when the bomb fell? The Superior of the community went to each Sister and told them to make morning prayer in the garden. Sr. Teresa Yamata felt sick and did not want to go out. The Superior made her go to the garden. With the fall of the bomb the house was decimated. None of the Sisters were injured (though tested for thyroid cancer for years). They then went up the hill to the Jesuit Novitiate where they received directions from Arrupe to find any moveable items to carry survivors back to him. .  .  .
The description of persons caramelized in positons of morning breakfast, etc. were horrifying. When Teresa was later in the US, she described having the belief that the earth would never produce growth again. Then months later, she spied a green sprout and went shouting to the community to 'Come see.'  .  .  .
When the Sisters went out for survivors with wheelbarrows, carts, wheelchairs, etc., those alive and burnt were fleeing to the river."
Post # 2: William Carlos Williams, a poem to balance the burdens of horrors in the world, playfully 
Today's Post:     The Manoeuvre
I saw the two starlings
coming in toward the wires
But at the last,
just before alighting, they
turned in the air together
and landed backwards!
that's what got me —
to face into the wind's teeth.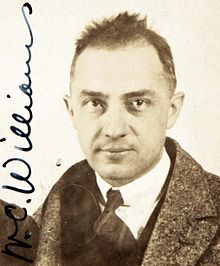 William Carlos Williams
September 17, 1883 – March 4, 1963
https://en.wikipedia.org/wiki/William_Carlos_Williams