Monday, November 18  – about the US Supreme Court hearing on DACA, November 12
Readers of the "Work Day in a Hard Time" Poetry List may well remember Maria Ibarra's first post to the list (August 29, 2018).  The poem gripped our readership with c. 4 times as many comments than any other post since the list began in September 2013: her title:   "what it means to be Catholic when you're a young, liberal, feminist . . ."
NB  We concluded the August 29 post with a postscript written by the author.
"Maria is the Southeast Michigan regional organizer for We the People Michigan. She immigrated to the U.S. from Mexico when she was nine years old and grew up Southwest Detroit and Dearborn. Maria has been fighting for immigrant justice for almost a decade, including grassroots organizing and political advocacy. She works closely with grassroots organizations to create alternative systems of immigrant-centered support and working to put people of color and women in positions of leadership. Maria graduated from the University of Detroit Mercy with a degree in English, and then went on to get a Masters of Social Work at the University of Michigan. On her free time Maria likes going for hikes, drinking expensive tea."
Last week Maria wrote again, this time about the November 12 US Supreme Court hearing on DACA immigrants.   The court has not yet released its formal conclusion.
Have a blessed week,
john sj
Today's Post:   "A Different Oral Argument" by Maria Ibarra
Today, November 12, the US Supreme Court
is hearing oral arguments on DACA.
Arguments on whether this pro-life
Country
Will let me keep the life
I lead.
I don't want to argue.
I don't want to talk to them.
The only people I want to talk to are
Other undocumented young people
Many with DACA, many without.
So this is to you, my loves.
We are not an argument.
We are warm honey
And the smell of cinnamon sticks
Simmering on the stove late at night.
We are sweet like guava fruit,
And prickly like cactus in the sun.
Ripe with possibility, wrapped
In self-protection.
We are powerful like our mothers,
Who break English in order to survive it.
We are gentle like our fathers
holding their new grandsons for the first time.
We are not an oral argument.
We are poetry dancing in the streets,
Hymns reminding us that
We survive each day despite
A military state trying to crush us.
How amazing it is that we are still here.
Powerful, and kind,
And beautiful, and yes
Resilient.
But most importantly
My dears
Most importantly, we are loved.
We are loved by our families and communities
Who crossed oceans and deserts
To give us this life.
This love is stronger than a supreme court decision, stronger than ICE,
Stronger than foolish
Arguments about whether or not we deserve to stay.
We already stayed. Now it's time to live.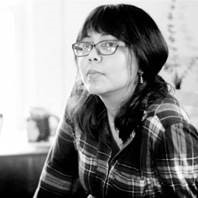 https://ssw.umich.edu/faculty/profiles/ce/mgif