Tuesday, Nov 26, deep into November
This delicate and demanding Hopkins speaks of the power and beauty of ordinary human sadness.  Pretty much every work day in the year invites our attention to work-pressure but also to what we notice when we pause, breathe, and invite stillness into the pace of living.  "Have you breathed yet today"?  This has been a question many women and men, soul friends, plant lightly in the hustle of my life,  and I plant in theirs.  This morning, that question brings me back to Len Waters, sj.  Len taught me and other college age young adults in his classes and challenged us to believe that our lives are alive with beauty, that sadness opens us to beauty as fresh as playfulness does.   Len taught us to keep what he called a "Commonplace Book,"  small enough to fit in a shirt pocket so that when some extraordinary sound or sight or memory or piece of poetry catches our attention, we could stop where we are, take out our battered little book, find words that want our attention precisely then and there so that the commonplace moment can come alive with remembering, again and again.
The "Work Day in a Hard Time," now in the list's sixth year, comes from Fr. Waters teaching when he taught me in my early twenties.   I miss him still.   Reading this Hopkins poem slowly, with pauses, reminds me of what I owe this great mentor.  Let me tip my hat to Len and to a host of great teachers who have anointed generations of students and their peers here at Six Mile and Livernois.
Have a blest week as we catch a hint of Thanksgiving.
john st sj
Spring and Fall
By Gerard Manley Hopkins
   to a young child
Márgarét, áre you gríeving
Over Goldengrove unleaving?
Leáves like the things of man, you
With your fresh thoughts care for, can you?
Ah! ás the heart grows older
It will come to such sights colder
By and by, nor spare a sigh
Though worlds of wanwood leafmeal lie;
And yet you wíll weep and know why.
Now no matter, child, the name:
Sórrow's spríngs áre the same.
Nor mouth had, no nor mind, expressed
What heart heard of, ghost guessed:
It ís the blight man was born for,
It is Margaret you mourn for.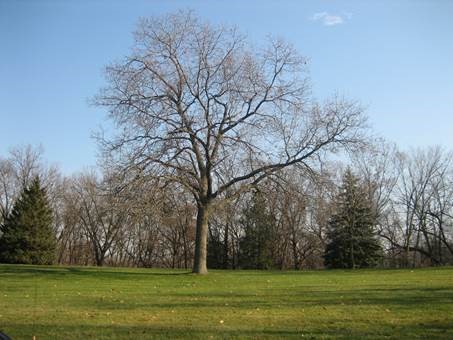 Near the Jesuit cemetery, Colombiere Center November 28, 2006