Thursday, was the feast of the Episcopalian saint, George Herbert.   His prayer-poem "Love bade me welcome" has become my most consistent beginning of morning contemplation.  Its status in my morning prayer originated with Marion Sweetser in Minneapolis on a late summer  day in 1965; she was the mother of Tom Sweetser, a close Jesuit friend, then and now.   I and 3 other young Jesuits were driving through Minnesota and most of South Dakota, on our way to a year's teaching at what was then known as "Holy Rosary Mission" (a K-12 boarding school on the Pine Ridge Lakota Reservation).  I was coming back from my first teaching ever.  That first year had worn me down;  veteran teachers there told me in February or March that this was the toughest year they could remember.   We lost 33% of the high school girls and boys that year and of the 5 young Jesuits who began the year, 2 left the Jesuits and the school, over Christmas break.   By that year's end, my colitis made me  resemble a gaunt and haggard refugee.
What I remember that day, when Marion cooked lunch for us, was her intuitive gift for noticing what was going on in each us. She recognized that I was a generous young man, who had a hard time letting people welcome me.  She welcomed me, that day and for the next quarter century.  I stopped at her home as often as I could, sometimes just for a meal, more often for 3 or 4 days when only the two of us were there.  Her husband had died some years before and her many children (seven I think) filled her life. I learned how to be at home in her kitchen where we would talk and talk over the years.
George Herbert's poem reminds me of her, especially the lines beginning:
"But quick-eye'd love, observing me grow slack from my first entrance in, drew nearer to me, sweetly questioning, If I lacked anything."
Today, all these years later, I honor the poet and Marion for the gift of welcoming people as sacred whether I am in a playful or a hard place.
Best to read the poem out loud,  with pauses.
Have a blest weekend.
john sj
Today's Post
Love bade me welcome. Yet my soul drew back
Guilty of dust and sin.
But quick-eyed Love, observing me grow slack
From my first entrance in,
Drew nearer to me, sweetly questioning,
If I lacked any thing.
A guest, I answered, worthy to be here:
Love said, You shall be he.
I the unkind, ungrateful? Ah my dear,
I cannot look on thee.
Love took my hand, and smiling did reply,
Who made the eyes but I?
Truth Lord, but I have marred them: let my shame
Go where it doth deserve.
And know you not, says Love, who bore the blame?
My dear, then I will serve.
You must sit down, says Love, and taste my meat:
So I did sit and eat.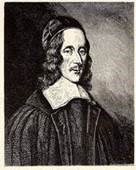 George Herbert
1593-1633
https://en.wikipedia.org/wiki/George_Herbert