Has the Inauguration of Joe Biden and Kamala Harris emerged as a national nail-biter or a deeply surprising congeries of wonders and beauty?   I find myself staying up very late these days, wanting to open space to savor surprise after surprise – –  Amanda Corman held us in her hand as she invited us to imagine the possibility of a young poet's capacity to move us into stillness;   President Biden's soft-spoken invitation to us all to listen to one another as our primary source of national healing and renewal;  and the fireworks (!!!) that framed the nation's capital;  – – sign after sign of hope, signs, too, of resilient courage in the face of the challenges we can all see.
Our Inauguration has been choreographed to bring the Capital deep into a playful wonder of body and heart and memory here on this Inauguration Thursday.  So too with today's poet laureate Maria Wisława Anna Szymborska who introduces us to an anonymous little girl exploring gravitation: a child's playful wonder.
When I stayed up late in and around the Capital Mall, fresh with celebration in the night, I might have been that little girl seeing how far the table-top dishes might fly.
Best to read the poem out loud, with pauses.  Have a blest Thursday.
John sj
Today's Post "A Little Girl Tugs At The Tablecloth"
Wislawa Szymborska
She's been in this world for over a year,
and in this world not everything's been examined
and taken in hand.
The subject of today's investigation
is things that don't move themselves.
They need to be helped along,
shoved, shifted,
taken from their place and relocated.
They don't all want to go, e,g., the bookshelf,
the cupboard, the unyielding walls, the table.
But the tablecloth on the stubborn table
– when well-seized by its hems –
manifests a willingness to travel.
And the glasses, plates,
creamer, spoons, bowl,
are fairly shaking with desire.
It's fascinating,
what form of motion will they take,
once they're trembling on the brink:
will they roam across the ceiling?
fly around the lamp?
hop onto the windowsill and from there to a tree?
Mr. Newton still has no say in this.
Let him look down from the heavens and wave his hands.
This experiment must be completed.
And it will.
(Translation: Clare Cavanagh and Stanisław Barańczak)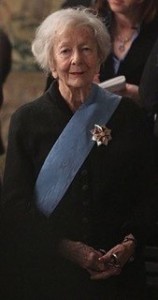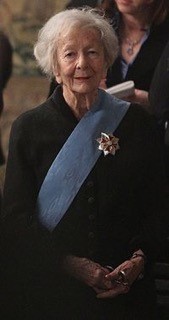 Maria Wisława Anna Szymborska
(2 July 1923 – 1 February 2012)
Nobel Prize in Literature 1996
https://en.wikipedia.org/wiki/Wisława_Szymborska