"It doesn't really, honestly matter where you go to college, it matters what type of person you are to take advantage of what you have"
Detroit Mercy Pre-Health Coordinator and Advisor had the opportunity to speak with Director of Student Affairs, Jamie Murphy, M.S. to discuss the many programs at Lake Erie College of Osteopathic Medicine (LECOM) and opportunities available for an array of students. This interview was so informative that we decided to provide six reasons to view the video on LECOM!
1). You want a 1 year master's program to prepare you for medical or dental school. LECOM provides a Master's of Medical Science program that prepares students for Medical and Dental School. The program is 10 months that provides the same pace as medical school but not as much material. What is also awesome about this program is that it is taught by Medical School Faculty so students will become familiar with the faculty they will have once they enroll into the Medical School.
"Rather than taking a gap year, we feel students are much better prepared going directly into the med school from this program."

"We took 84 people last year into our Med School from the Masters!"
2).  You are a Physician Assistant that may want a fast track to becoming a Doctor. LECOM provides a Bridge Program for practicing Physician Assistance!
"So if someone is already a practicing PA and want the autonomy of being a physician, we offer an accelerated program!"
3).  You are interested in one of their 3 Pharmacy doctoral programs: 4 year PharmD, 3 year PharmD, Online PharmD. The three year, accelerated PharmD program is located at Lake Erie campus and the four year PharmD program is located at LECOM's Florida Campus. The online PharmD program is a four year program.
4). You want to learn about their exciting Dental Program located in Florida. LECOM has a Dental School as well! The school have 105 seats! The students from the Master's program can also go to the Dental school after successful completion of the program.  These students are required to take the DAT. This program is located on the same campus as the PharmD programs.
5). You are interested in attending United States' largest medical school with 4 total campuses in Florida, Pennsylvania and the newest in New York
"Our med school, were the biggest, were the largest med school in the country. We get the most applications of any med school!"
6). You are interested in Early Acceptance Program for the Doctor of Osteopathic Medicine applying as a high school student, college freshman or sophomore. Detroit Mercy is an affiliated undergraduate campus with LECOM for the DO program. What does this means? This means that if you are a part of this program, there is a reservation for a seat at LECOM for you!
"The whole purpose of the Early Acceptance Program was to establish relationship with students from their senior year of high school all the way to coming into the doors here"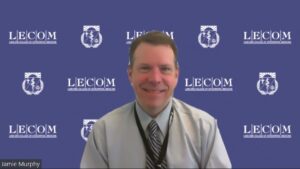 Jamie (Mr.) Murphy – M.S.,
Director of Student Affairs.
Lake Erie College of Osteopathic Medicine (LECOM)
Master of Medical Science Admissions Coordinator
LECOM Early Admissions Program
www.lecom.edu