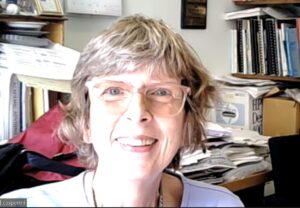 Pre-Health Advisor Carmen Gamlin had the opportunity to speak with Chemistry and Biochemistry faculty, Mary Lou Caspers, Ph.D. Dr. Caspers discusses the courses she teach at Detroit Mercy and key characteristics of a Pre-Health student. Interesting to note, Dr. Mary Lou Caspers is an alum of the University. She received a B.S. in Chemistry from Detroit Mercy (formerly known as University of Detroit). Not only does Dr. Caspers serve as a faculty at Detroit Mercy she also serves as an advisor for The Pre-Med Club!
Dr. Caspers, you have been providing scientific instruction and mentorship for the College of Engineering and Science for some time. Please share what courses you instruct this academic year.
There may be many ways that you engage pre-health students while they study here at the University. I hear alumni fondly share how you have inspired them. Would you contrast your relationship with a student in your class versus one in a student organization that you advise?
I think the vantage point of science faculty is quite valuable. Please share what you have seen as attributes of a successful pre-graduate school/ pre-health student.