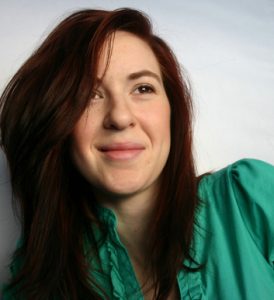 As part of its 60th anniversary, the American Institute of Architecture Students named Lauren Myrand '12 one of the organization's 60 Legacy Alumni.
Myrand, who was vice president of the local AIAS while an Architecture student at Detroit Mercy, said the position made her rethink her career plans.
"I started to spend more time in my role as vice president than I did on my design work and that led me to take a hard look at what I wanted to do," she said. "I get really inspired by design, and the way good designers solve problems, but my problem solving went in a different direction."
At 23, just four months after earning her master's in Architecture, Myrand was hired as Executive Director of the Detroit Chapter of the American Institute of Architects, a position she still holds today.
Much of her work involves bringing like-minded people together in the hopes that they will inspire each other to greater heights. She is guided by the principle that "if you are going to practice architecture in Detroit, you have a different duty than if you practice it in other cities. It's about helping them understand how they can be a citizen architect."
Myrand comes by this very Jesuit and Mercy value of service to the community honestly. She graduated from Mercy High School and performed plays at University of Detroit Jesuit High School before attending Detroit Mercy.
"I always been one who wanted to help others," she said. "And my role provides a way for me to focus that energy into something tangible, paving the way for architects to be able to create good design."