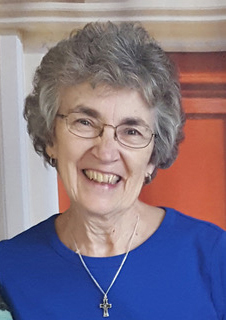 On Friday, the University community suffered the loss of one of its most recognizable and beloved members, recently retired Associate Professor of Health Services Administration Mary Kelly, R.S.M. '68.
The arrangements for the funeral are as follows:
April 10: Welcome service: 3 p.m.; receiving of friends 3:30-5 p.m. and 6:30-9:30 p.m.; vigil service 7 p.m. — McAuley Center, 28750 W. 11 Mile Road, Farmington Hills, Mich.

April 11: Mass of Resurrection: 10:30 a.m., Mercy Center Chapel, 29000 W. 11 Mile Road, Farmington Hills, Mich. Burial will be at Holy Sepulchre Cemetery in Southfield, Mich., following the liturgy.
"She was a true example of humility when given a compliment, but her distinguished and successful graduates always praised her highly as a teacher and mentor," said University President Antoine M. Garibaldi, Ph.D. "She leaves a shining legacy through the many health professions alumni she prepared for their leadership roles."
For more than 20 years, Sr. Mary was a beloved part of Detroit Mercy and the College of Health Professions, where she began as an assistant professor in 1995. She specialized in health care delivery and policy issues, research methods for the health professions, overview of health care systems, health promotion, the Sisters of Mercy and women in health professions. She also worked with Trinity Health in health care governance and management for more than two decades.
Sr. Mary's recent research into the contributions of women religious in the creation of the U.S. healthcare system was honored by the Catholic Press Association. She worked to have these contributions added to textbooks on the history of U.S. healthcare. You can watch a talk she gave on this fascinating research, undertaken with Professor of Nursing Maureen Anthony, here.
A Detroiter for most of her life, Sr. Mary earned a Bachelor of Arts from Mercy College of Detroit in 1968. She earned a Master of Business Administration from Michigan State University in 1980 and a Doctor of Public Health from the University of Michigan in 2001.
"Sr. Mary Kelly led and taught by listening, by expecting risk-taking," wrote Assistant to the President for Mission & Identity John Staudenmaier, S.J., in his A Work Day in Hard Times blog. "She noticed fellow members of the university and, in noticing, helped them to believe that they have a voice worth listening to. Just as she listened to other people's voices, all over this university for years, so her voice was a source of grace all those years as well. We will miss her."
Chair of Health Services Administration Renady Hightower said, "To students at Detroit Mercy, Sister Mary Kelly was knowledgeable and knew how to inspire students to learn by demanding their best effort; she will be missed."
Please share your memories of Sr. Mary below.