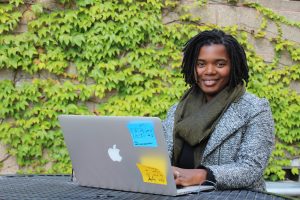 This year, Rebecca "Bucky" Willis '12 is seeing the world and the way design makes it better.
The recipient of five international fellowships, Willis has been to Toronto, Athens and Salzburg, Austria this year; closer to home, fellowships have taken her to Vermont and Chicago and, next year, to Washington state.
"I was blessed this year," Willis, who is a project manager and designer with University of Detroit Mercy's Detroit Collaborative Design Center, says. "Last year, I applied for every fellowship I knew about and got turned down for everything. This year, it was the opposite."
"It is extremely rare for someone to receive so many fellowships," said DCDC Executive Director Dan Pitera. "In fact it is common to apply to more than one in hopes that you can better your chances. We never guessed she would receive them all; it is a true testament to the quality and integrity of Rebecca's work."
The five fellowships in which Willis is participating are:
880 Cities Emerging City Champion Fellowship: Sponsored by the John S. and James L. Knight Foundation, this fellowship provides professional support and $5,000 to young innovators to create a project designed to "enhance civic engagement, improve mobility and activate public life in public spaces," according to 880's requirements.
Willis' project, called "Skyscape" will transform a dilapidated commercial building into a roofless community space in the Lindale Gardens neighborhood near I-75 and Seven Mile. "I'm calling it a park with walls and envisioning it to be a gathering space for the neighborhood."
It's a neighborhood she knows well, having grown up there and been inspired by the community work done by her parents. The project will be built in collaboration with the DCDC and Bleeding Heart Design, a nonprofit organization and design movement designed to inspire altruism. Willis founded Bleeding Heart Design, which was formed from her master's thesis research.
Creative Community Leader Fellowship: National Arts Strategies is an organization that supports initiatives that come at the intersection of community, arts and culture. This fellowship focuses on building skills and relationships with others who have projects addressing similar issues. What began as a network of financial stabilization programs for cultural organizations is now an organization that provides leadership education for those in the arts and culture fields. Fellowships go to artists, designers, cultural entrepreneurs, grantmakers and executives. Participants discussed ideas "all together in one house for a week in the middle of Vermont," Willis said. In January, after months of video meetings with fellows, the group will reunite in Washington state to pitch ideas to venture capitalists for potential funding.
Ethical Redevelopment Salon Sessions: This invitation-only fellowship focuses on theories of ethical development. "Where in much redevelopment, the end goal is a financial reward, but with this, projects are more community driven and it's about increasing engagement with the neighborhood and trying to get people to think about redevelopment through that lens."
IdeasCity Athens Artist Residency: This event involved a week in Athens, Greece, sleeping in "these strange tents," Willis said, in the middle of the city. Forty participants chosen from around the world met "not really to solve problems, but to think things through and to listen to what other people and cities are doing." It's sponsored by the New Museum of New York City, whose website says the program is designed to be collaborative, and starts "with the premise that art and culture are essential to the future vitality of cities."
"We weren't there to solve Athens' problems," Willis said, "but to learn more about the city and the work the other fellows are doing in cities across the world."
Salzburg Global Forum for Young Cultural Innovators: This 10-year project brings together young intellectuals from around the world to discuss social improvement and sustainable development. Only 50 applicants are chosen from more than 500 applications. Sharing ideas and listening to development movements from around the world help participants develop skills, vision and networks needed to advance their organizations, causes and communities.
"There are so many great ideas around the world and, in the long run, participating in these fellowships will only strengthen my work," Willis said.
Over its 23-year history, DCDC staff have earned 14 national and international fellowships, Pitera said. He says it's important that DCDC employees participate in such programs for two significant reasons.
"First, we want to have a culture built on the exchange of knowledge among all of us," he said. "And second, we want a culture that celebrates and supports everyone who works at the DCDC."
Pitera continued: "I have known Rebecca since she was a freshman. She came to Detroit Mercy with a mission. She was driven and dove into her education. She is still driven and continues to dive into everything she engages in. She brings a unique blend of talent, intelligence, passion and integrity."
Willis is honored to have been chosen to participate in these fellowships and has plans to apply for more: "The way I figure it is that you miss 100 percent of the shots you don't take, so I apply for everything and hope for the best. The University has been really supportive of me and I feel like a really privileged person here."