Two Counseling program grants are having a direct impact on students and the community at large.
The grants, totaling $1.4 million, provide nearly $450,000 in stipends or tuition support for counseling students and $30,000 to program alumni for project participation. The immeasurable value is the impact on the Detroit community.
In 2015, University of Detroit Mercy's Counseling Program was awarded a $780,000 grant from the Substance Abuse and Mental Health Services Administration (SAMHSA) as part of the Federal Screening, Brief Intervention, Referral and Coordination of Treatment initiative. Now in its second year, the program is reaching bachelor and master-level students and key constituents in the community.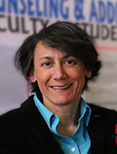 "There is research to show that individuals who suffer with addiction will not go to a counselor for help, but will disclose their addiction to nurses or other professionals who aren't going to treat them for it," said Nancy Calleja, chair of the Department of Counseling and Addiction Studies. "Through this grant, we are able to help those professionals identify addiction and provide a brief intervention and referral for treatment."
With the grant, Detroit Mercy will train nearly 1,100 students and the impact will be felt beyond that as they move out into their professional careers and train those around them.
Detroit Mercy students in the nursing, physician's assistant, dentistry, counseling, psychology and social work graduate programs as well as bachelor-level nursing and dental students receive the training as part of their course work.
"We treat individuals through our public clinics, including the Counseling, Dental, McAuley Health and Psychology clinics," Calleja said.
The department is working to educate the community as well.
"We're not only providing the training to our students, but we are providing community outreach through seminars about specific and timely issues, including substance abuse, opioid addiction, alcohol abuse and prescription drug abuse," Calleja said. "Some of the seminars are held on campus while others will take place in community settings. It's a secondary effort to not only have our health professionals trained, but increase community awareness about the various issues."
The SAMHSA grant isn't the only one making an impact on students and the public. The Counseling Program is also the recipient of a $702,000 grant from the Health Resources and Service Administration (HRSA) to train students to work with high-risk adolescents, including those struggling with mental or substance abuse, those in the welfare or juvenile justice system or public mental health programs.
"For that, we have designed the Working with At-Risk Youth, or WARY Fellowship, for graduate counseling students. Those fellows receive additional training to work with this at-risk group and they receive a stipend for their extended internship. In return, they are committing to work with high-risk adolescents for the early part of their careers," Calleja said.
One of those students is Ann Dudah, a clinical case worker at Spectrum Juvenile Justice-Lincoln Center.
"Working with these adolescents and their families has been a privilege and a huge learning experience that may not have been possible without WARY," Dudah said, adding she wanted to be involved with social justice, but hadn't considered juvenile justice specifically before learning about the WARY Fellowship.
"It has provided me with a focus, particularly the effects of childhood/adolescent trauma on the behavior of at-risk youth. The adolescent brain changes more rapidly than at any other time in life, and the effect of trauma, such as abuse, violence, drug use, natural disaster or poverty, can have a lasting and irreversible impact on these children," Dudah said. In her role at Spectrum Juvenile Justice, she performs individual, group and family therapy, develops treatment plans and advocates for the residents in court.
According to Calleja, the program involves training in adolescent brain development based on years of research, understanding of trauma and public system involvement to help students become familiar with the workings of the juvenile justice system.
In its third and final year, the HRSA program has been more successful than initially anticipated, Calleja said. The structure of the program will be highlighted by a training session provided by HRSA to other grant applicants in January.
"We have built a large base of community partners who want our students after graduation because of the experience they gain in our program. We initially predicted 80 percent employment rate within six months of graduation and we are at 94 percent within one month," said Calleja.
With the new federal administration, the future of the HRSA grant, like others, is unknown. However, if it is renewed, Calleja said Detroit Mercy is in a strong position to reapply and continue offering the WARY Fellowship.
"This grant is a fantastic recruitment tool. It shines the light on Detroit Mercy for the work of our students, it provides students with direct funds and it has a direct impact on the surrounding community," Calleja said.