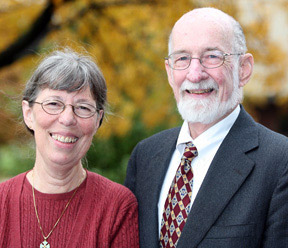 When the College of Health Professions officially opens its expanded facility later this month, one room will be named in honor of a prominent pediatrician, thanks to a generous gift from two alumni.
Barbara '02 and Ralph Cushing '99, both doctors—she a retired pediatric hematologist-oncologist and he an infectious disease specialist—gave in honor of Dr. William C. Montgomery, a physician, pediatric educator and former chief of pediatrics at Mt. Carmel Mercy Hospital. He also held state and national positions for the American Academy of Pediatrics and was instrumental in starting the Physician Assistant Program at Mt. Carmel. The William C. Montgomery Classroom will be identified with a plaque in recognition of the gift from Cushing and her husband, who died in 2013.
"This gift is in memory of Bill. It resulted from a conversation between myself and Dean Christine Pacini of the College of Health Professions," said Cushing. "She knew him when a nurse at Mt. Carmel; I knew him as an attending physician at Children's Hospital of Michigan. We realized that we both had been greatly influenced in our educations and professions by this remarkable Detroit pediatrician.
"I also had involvement with several Detroit Mercy physician assistant students while I was on the pediatrics faculty at Children's Hospital and I knew the strength of the program," she said.
The Cushings have long been supporters of the University, though they came to it late in their careers. The two met as students at the University of North Dakota Medical School, and came to Detroit when they transferred to Wayne State University School of Medicine.
They came to Detroit Mercy when Ralph, who had a special interest in medical ethics, "wanted a deeper understanding and insight" into the spiritual side of human beings. "We both came from very religious backgrounds and it just seemed that we wanted a better perspective on that, and we thought it would help us in practicing the art of medicine," Cushing said.
He earned a degree in Religious Studies and she followed closely afterward. They enjoyed the experience so much that they decided to give back by endowing the Ralph and Barbara Cushing Distinguished Lectures in Religious Studies in 2008, annual lectures "intended for the intellectual enrichment of students, faculty and the community." The couple has endowed a scholarship, as well.
Other naming opportunities are available in the CHP facility expansion, which has been designed to "enhance the experience and prepare more advanced practitioners," said Dean Christine Pacini, specifically physician assistants, nurse practitioners and nurse anesthetists.
A $1 million gift from the O'Reilly Trust is supporting a major portion of the expansion. The 10,000 square feet of new space will include additional labs, private exam rooms and flexible classroom space along with hardware and software to incorporate the most modern teaching and learning technology.
The space is scheduled to officially open later this month.