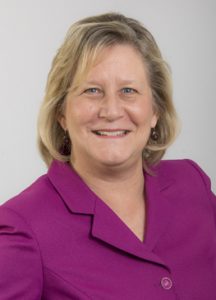 Ramona Benkert has a passion for two things: Detroit and nursing.
Through her career as a nurse and nurse educator, she has been able to make a difference in both. A native of Detroit, Benkert earned her bachelor of nursing degree from Mercy College of Detroit in 1981 and has stayed connected to the city ever since.
"I was born and raised here," Benkert said. "I went to Cody High School, then Mercy College of Detroit and then Wayne State University. I'm really vested in Detroit and I think that my primary mission is to enhance the healthcare in this city."
She began her career as a medical assistant in a pediatrician's office and decided to pursue a nursing degree, saying she was drawn to the field by her love of sciences.
"University of Detroit Mercy has been an extremely wonderful foundation for me" Benkert said. "I started out as a medical assistant and University of Detroit Mercy gave me credits for that. It allowed me to move into honor courses, which were really instrumental in helping me get a position after graduation. The education and clinical foundation was superb."
At the time, the school also had a senior immersion course, so students could delve into the areas they were a little more interested in." For her senior immersion course, Benkert did a clinical practicum with autistic children and those with developmental disabilities. It was there that she discovered the joy of caring for the underprivileged population.
After graduation, Benkert began her career working with adults in a primary care setting. In 1987, she obtained her master's degree and upon graduation had a dual appointment as a nurse practitioner and a faculty member at Wayne State University.
"I really liked the teaching component and academia was where I wanted to be," Benkert said. "I had an interest in understanding people and getting them to engage in primary care and how to do that when the patient is from another culture or has a different background."
She continued her education at the University of Michigan-Dearborn and earned her doctorate in nursing in 2002. Today she is associate dean of Academics and Clinical Affairs at Wayne State University, helping shape the next generation of nurses by enhancing the academics of the program. Benkert said she has an interest in diversifying the healthcare workforce as well as increasing the number of those who go on to work in underprivileged areas. She does that by giving back.
Benkert volunteers at the Cabrini Clinic, America's oldest free clinic, located in Corktown. She is also a co-principal investigator at the Michigan Area Health Education Center (MI-AHEC) at Wayne State University.
"The mission of MI-AHEC is to encourage health professions students from all areas to return to the underserved communities to work," Benkert said. Through that initiative, she works with University of Detroit Mercy nursing and dental school leadership to encourage students to become involved.