Every year, the Fr. Vincent Welch Memorial Dinner raises funds for scholarships for students of University of Detroit Mercy and Loyola High School. On Tuesday, Artona Millhouse '16 told a large crowd the difference the scholarship she received to attend Detroit Mercy has made in her life. We excerpted it here because we thought it was something everyone should hear.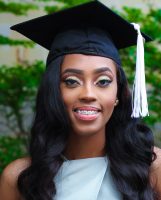 I stood in this same spot, on this day last year, as a senior and recipient of the Mary Leila Koppe Endowed Scholarship. I now stand before you all as a proud first-generation college graduate with a bachelor's degree in Developmental Psychology. I am beyond thankful for the opportunity to return and share an update on what life has been like since graduation.
I completed my undergraduate journey on December 13, 2016; just nine days before my 23rd birthday. I remember completing my Health Care Ethics final and experiencing an array of emotions. I felt drained after having four exams, three essays and two final projects. I felt determined as I challenged myself to earn a 4.0 or else I could not truly celebrate my birthday. I felt excited and in awe that this was the very moment I worked so hard for. I hate to admit it but also felt fearful of adulthood and what it had to offer me. I worried that I would not be prepared for the career world and would let my family down. I spent 4 ½ years of my life at Detroit Mercy and felt comfortable there, and now I was about to step foot into a different world.
I discussed my fears with my mom, who gave me the best advice I could have asked for: "Greatness never came from comfort zones." If I wanted to experience all that God had in store for me I would have to step outside of the familiar. Next, she reminded who and what I'd worked so hard for.
I've always said graduating college was about more than myself; it was also for my family. I wanted to show my younger siblings life is more about where you are headed than where you are from. What example would I be setting for them if I gave up? If my siblings were in a similar situation I'd tell them that achievements don't end after college and that they'd have to continue to aim high. That's exactly what I intended to do.
I knew I was called to serve others; specifically children. I began to apply for jobs at schools, daycares and guidance centers until intuition directed me to The Children's Center of Wayne County—Michigan's top provider of children's services ranging from clinical to behavioral therapy. I knew, from the moment I decided to work with children this would be my dream workplace, as I saw the work done here firsthand. I found a listing for a Behavior Technician position in the field of Applied Behavior Analysis. A behavior technician provides one on one instructional services to children who have autism. They work on skills as small as clapping hands to teaching children social and life essentials. Something told me to apply.
I interviewed for the position in mid-January and went in using every ounce of interview experience I gained on campus. The mock interviews at The Career Education Center, interviewing process for orientation leader to jobs in residence life came in handy. I was asked questions about my passion, gifts and plans for the future. I was confident responding to these questions because I was given the preparation since my freshmen year at Detroit Mercy. I was well rounded, patient, empathic and passionate about serving others. I knew these things combined with my love for God would make me an asset to any team and that came through in the interview. After the interview I was told I would receive an update within the next two weeks. I was offered the position the next day; my start date would be Jan. 30.
I couldn't be happier with the decision I made. The truth is the work is extremely challenging at times but the rewards are far greater. I've been at TCC for a short time nonetheless I've witnessed kiddos grow in ways that truly melt my heart. I've watched children who would scratch, bite and scream to communicate learn to use their words; children who wouldn't engage with peers ask others for high fives; children who couldn't stay seated for five minutes during therapy sit and focus for three-hour sessions. This may seem trivial to others but helping these kiddos progress in these ways is what gets me out of bed every morning.
I may be the first Millhouse to graduate college but I am certainly not the last; as you've helped to create a family full of Titans. My sister begins classes at Detroit Mercy in the fall and my brother will be enrolling the following year.  My youngest sister, who's only 10, already has her heart set on being a Titan.
Thank you again for making my desire to complete my education a possibility.
You can change a life by supporting scholarships to University of Detroit Mercy by clicking here. Thank you.