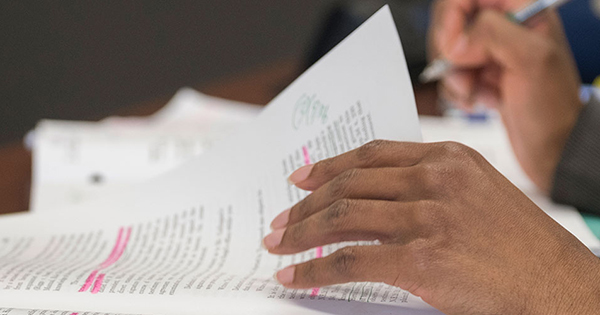 A $16,000 grant from the Michigan State Bar Foundation will help fund a partnership between University of Detroit Mercy School of Law and the United States District Court for the Eastern District of Michigan designed to aid hundreds of low-income, non-prisoner litigants who represent themselves in federal lawsuits each year.
"We are grateful to the Michigan State Bar Foundation for providing funding for the new Federal Pro Se Legal Assistance Clinic offered by Detroit Mercy Law," said Dean and Professor of Law Phyllis L. Crocker. "Our students will learn what it means to work in service to their neighbors as they experience firsthand the challenges and rewards of legal practice. This grant allows us to support the Detroit legal community and the hundreds of pro se litigants who will benefit from this clinic."
Clinical Director Anne Yantus echoed these comments: "Detroit Mercy Law is absolutely delighted with this grant and the opportunity to create a new clinic for pro se litigants," she said. "There is a real need for this type of work, and a pro se clinic will bring value to litigants, the court, and our students as well."
The Federal Pro Se (meaning "for oneself") Legal Assistance Clinic is expected to begin as a one-year pilot program on January 17, 2018, operating at the federal courthouse in Detroit. The clinic will operate Monday, Wednesday and Friday afternoons with a staff attorney and up to eight law students, providing limited-scope legal assistance to pro se litigants who may need help determining whether to file a suit or who need procedural advice, explanation of court orders and procedures, strategy discussions and more. The staff attorney will also serve as an adjunct professor at the School of Law.
In fiscal year 2016, non-prisoner pro se litigants filed 427 new federal civil cases in the Eastern District of Michigan, representing 10 percent of all new civil cases in the Court. Pro se clinics are found across the country and provide invaluable resources to litigants and the court. They help litigants sharpen the focus of cases that have merit, thereby increasing the litigants' chances for success. They additionally help reduce the number of cases with no basis for federal court jurisdiction.
Clinical experience is a requirement for all Detroit Mercy Law students, and the Federal Pro Se Legal Assistance Clinic will be the eleventh in the School's program. Other clinics concentrate in Immigration Law, Veterans Law, Veterans Appeals, Criminal Law, Appellate Advocacy with the State Appellate Defender Office, Juvenile Appeals, International Patent Law, Trademark & Entrepreneurship, Housing Law, and Family Law (the latter to begin in January 2018). All serve indigent and low-income clients.
Together with a previous grant from the Oakland County Bar Foundation, as well as generous donations from Miller, Canfield, Paddock and Stone, PLC, and Honigman, Miller, Schwartz and Cohn, LLP, this new grant from the Michigan State Bar Foundation will provide much needed support for the new pro se clinic.
The Campaign for University of Detroit Mercy is raising funds to ensure its Jesuit and Mercy mission of community service and educating the whole student stays strong with updated and expanded programming. Please consider making a gift toward the $100-million goal online or by calling 313-993-1250. Gifts of any size can make a major difference.