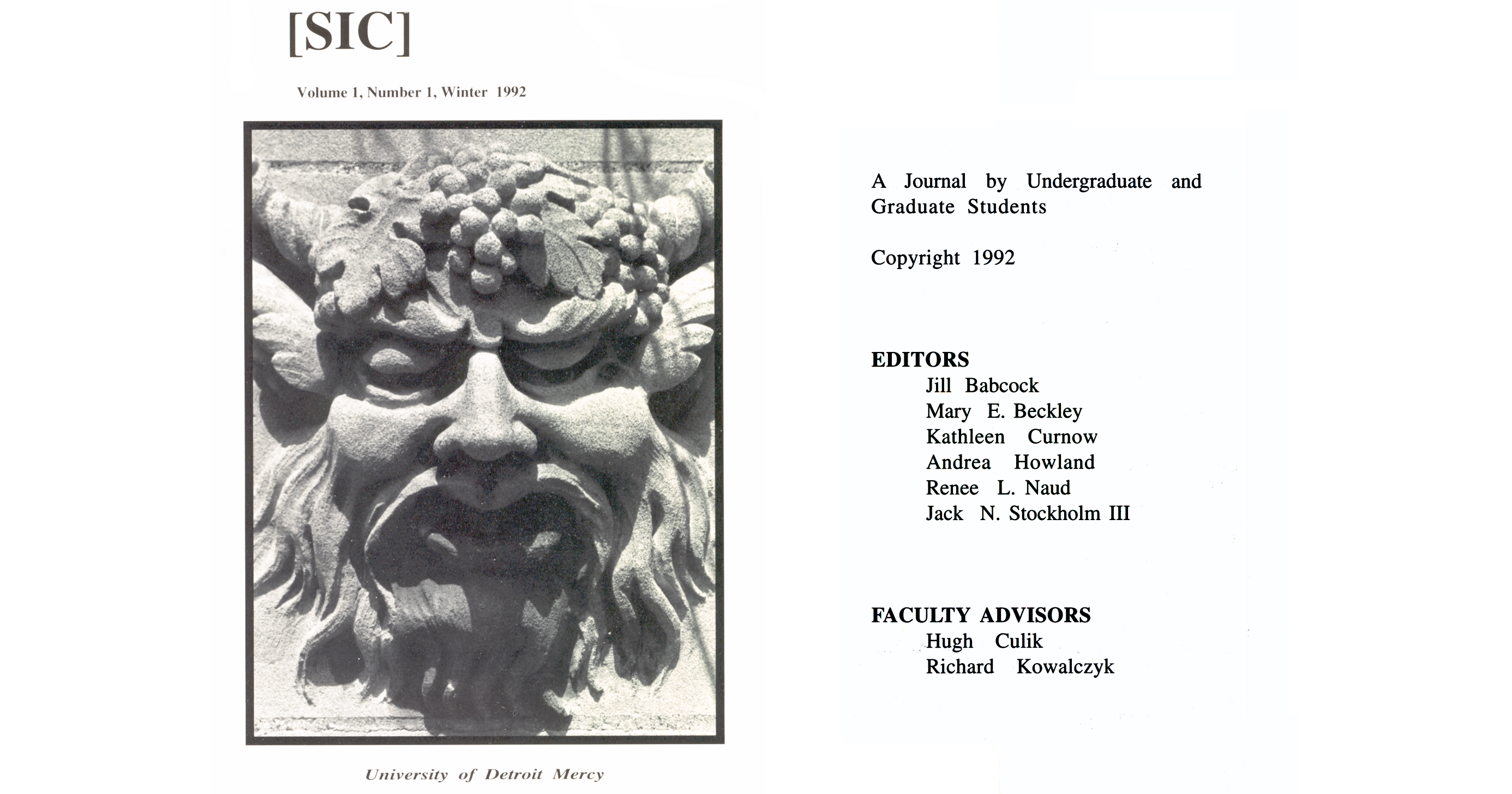 sic /'sik, 'sēk/
Adverb, "thus" From the Latin sic erat scriptum "thus was it written." Used after a printed word or passage to indicate that it is intended exactly as printed or to indicate that it exactly reproduces an original.
University of Detroit Mercy student arts journal, 1992 – present.
Each year, when the new issue of [sic] arrives from the printers, there is a rush of excitement as students open the boxes and hold the first hard copies in their hands. In the digital age, Detroit Mercy's commitment to producing an ink-and-paper student arts publication may seem old-fashioned. And yet, we'd hazard, anyone who has heard live music, or leaned in to see the brush marks in a painting, or run their fingers over the pages of a new book knows there is a pleasure in physically interacting with a work of art that cannot be experienced any other way.
When the first issue of [sic] was published in 1992, the digital age was just beginning and no real outlet for student creative writing was available on campus. The impetus for a literary journal originated with students taking a course in poetry writing. Their idea was in strong keeping with the English department's focus on student-centered, project-based learning and quickly found support. In collaboration with faculty mentors, a small group of students worked on every aspect of creating, designing, and promoting the first issue, which came out the following year.
This focus on students "learning by doing" has been at the heart of [sic] ever since. Each academic year, student editors—who solicit and select the content, consult with contributors on the revision process, and design the journal—work under the guidance of English faculty to produce a professional-grade publication. Student contributors improve their creative work and gain a large public audience. Both editors and contributors gain knowledge and skills that will benefit them in a broad range of career paths.
Through the years [sic] has been distributed to countless new and prospective Detroit Mercy students; taught in creative writing courses; and used in the University's orientation program, Prologues, Transitions, and Viewpoints, to model creative and academic work for incoming freshmen.
Some aspects of the journal have changed over time. Originally, [sic] was financed strictly by sales. Issues were published regularly but not annually. Its value was soon recognized by the University and our larger community, however, and it received financial support from the Offices of Admissions and Student Life as well as a grant from the McGregor Fund. Today, the journal is produced with the generous support of the College of Liberal Arts & Education. The Detroit Mercy Libraries and Instructional Design Studio support the journal by archiving electronic copies of back issues in their special collections.
[sic] also has expanded the type of creative work it publishes. At the start it was primarily a literary journal. Although the majority of student submissions published each year continue to be poetry, fiction and personal essays, issues now contain a dazzling variety of written and visual art forms. The English Department faculty continues to be impressed by the innovative ways students choose to express themselves. In our latest issue, for instance, one contributor's poem coalesces into a concrete image of its subject; in the excerpt of another student's academic record, we see a story of transformation: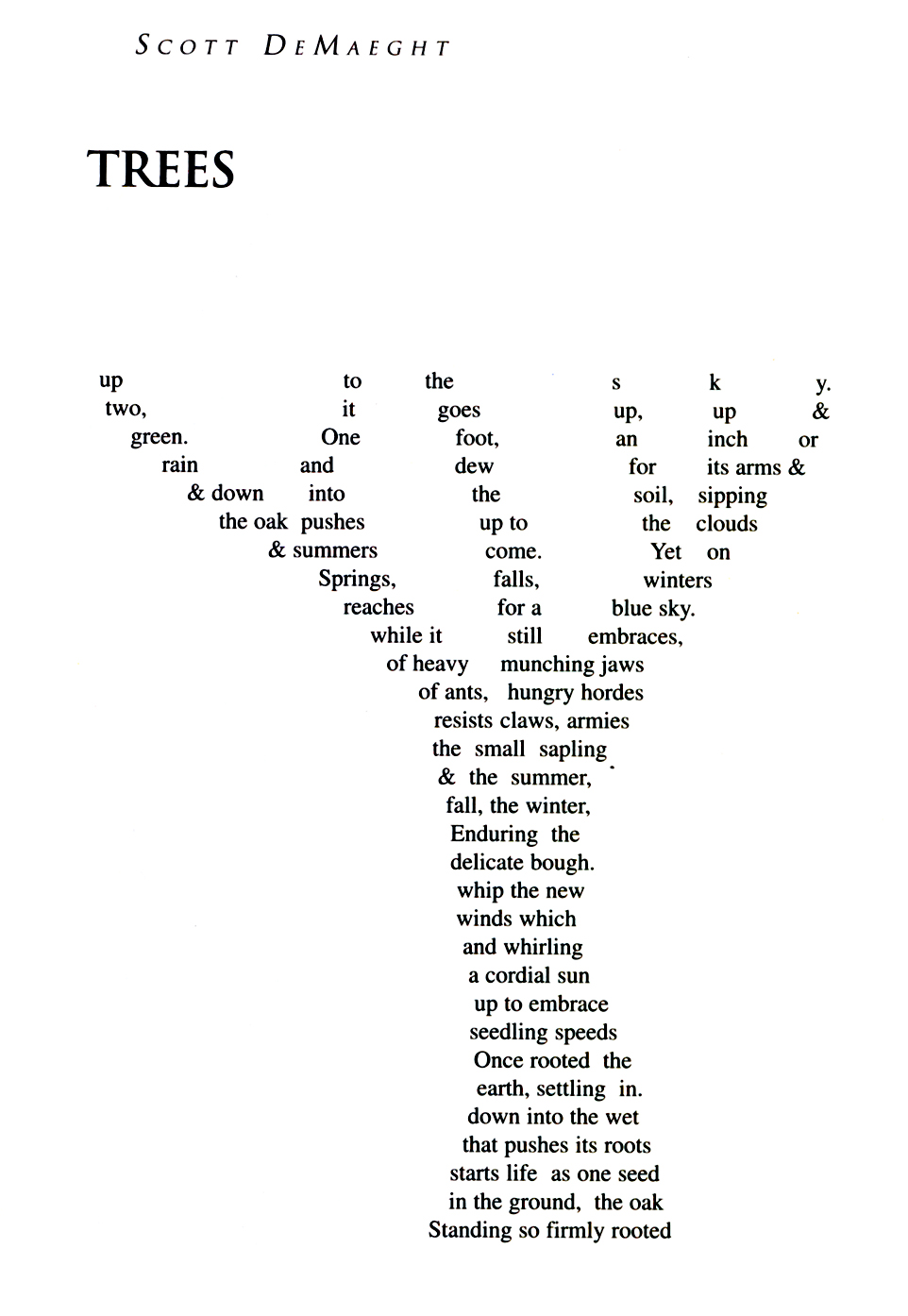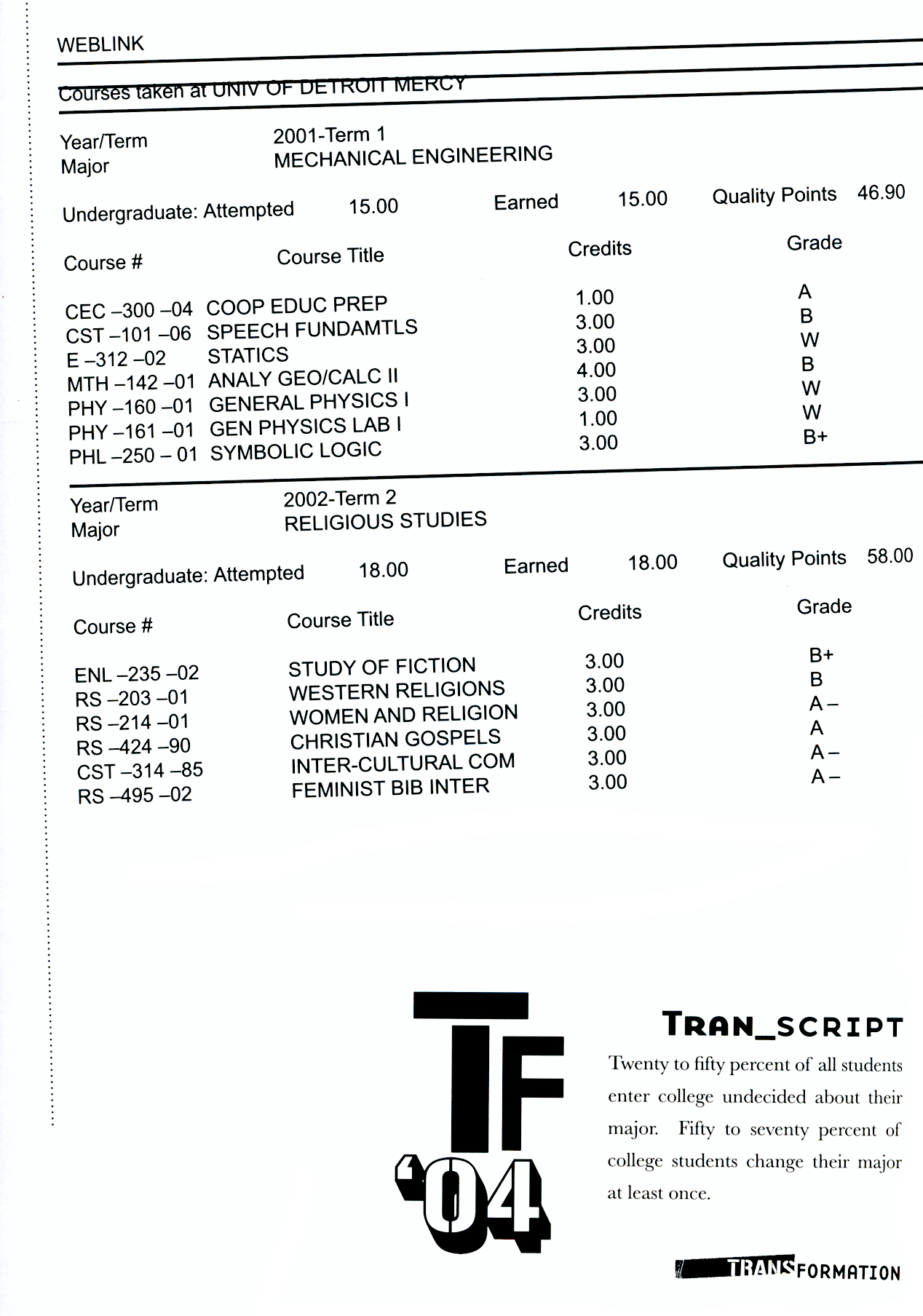 The journal also expanded its efforts to highlight the wide range of programs at Detroit Mercy in which students are engaged in creative, critical and socially relevant work. In Poem House (Issue 10), for example, Architecture students Jessica Schulte and Sara McDuffee created a temporary environment in an abandoned house for a Detroit-based poem by author Denise Sedman. Journal editors interviewed Schulte about her experience working on the project. The interview, a photo essay, and Sedman's poem were all published in [sic].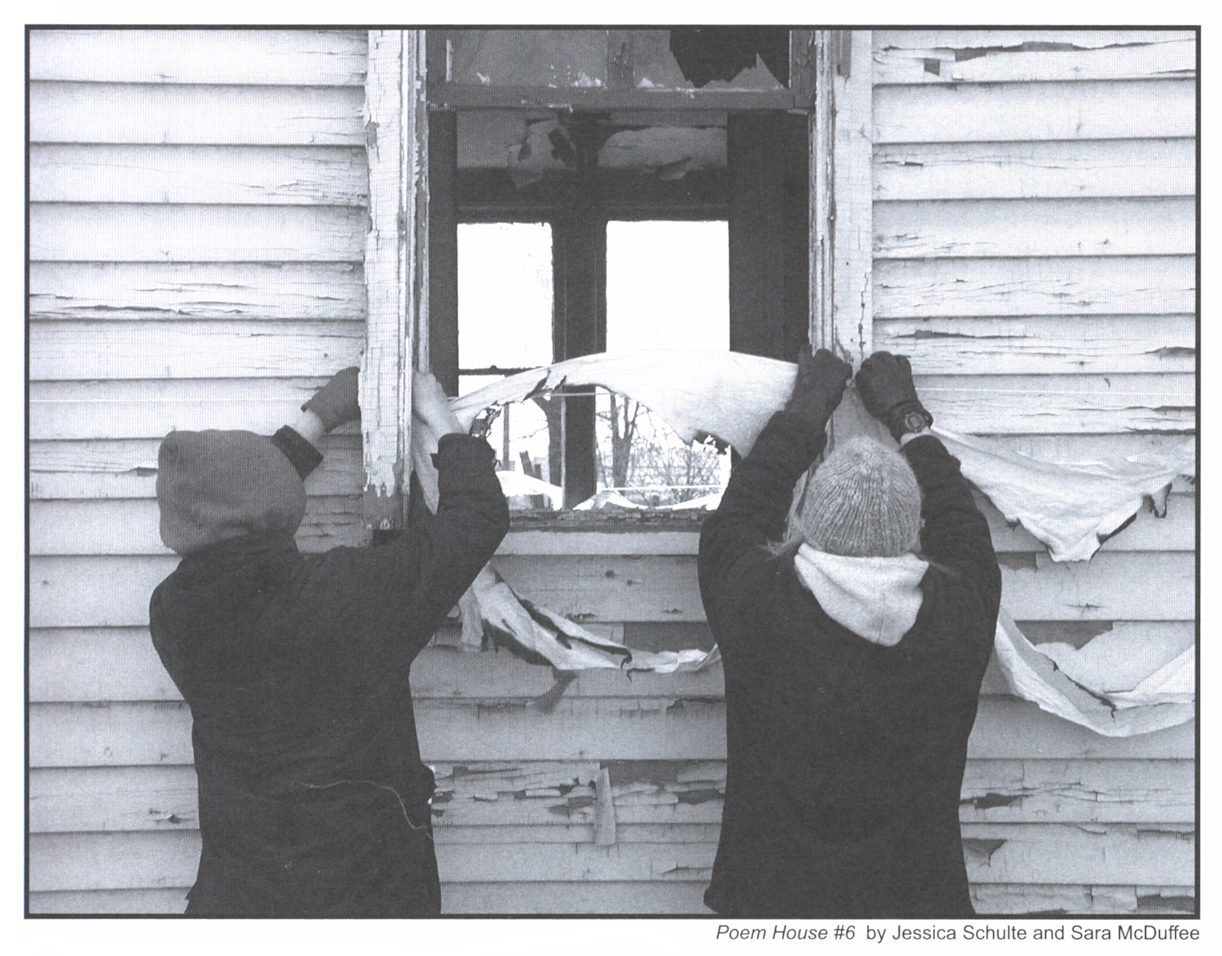 Other aspects of the journal have remained the same. [sic] has always been committed to fostering the creativity, agency and discernment of our students. In these ways it deeply aligns with the reflective, holistic nature of Jesuit and Mercy educations, which ask students to engage purposefully with the world and all its people.
[sic]'s high editorial standards and vitality continue to guarantee an audience for Detroit Mercy's talented student body. Readers delight in lively, intelligent and engaged writing and artwork from students across the University—architects and poets, engineers and historians, social workers, nurses, scientists, and philosophers.
This month, the calls for submissions and editors will go out and work will begin on [sic] Issue 26. At the end of the year, the new boxes of books will arrive from the printers and students will hold their issue in their hands for the first time. In the process they will find their visions and their voices. In the words of one student contributor, they will find their bigger skies. We close with her poem.
Flying Lessons
By Elizabeth Reifert
She painted a
falcon today. Empty
paper became covered
with oils, colors
created fast form.
'It's
finished,' she declared,
'with a sky to
fly in.' It waited to dry
on top of the
register closest to
the sun.
In the evening,
with    no one
watching, the
falcon attempted to rise
from its crafted world;
running
again and again
against the page
before
shriveling into
itself.
In the morning,
she wakes to
find the falcon
limp
on the linoleum floor,
wings wrinkled,
talons broken.
She
crushes it
in her palm and
buries it
in the trash can. She
gets out the paints,
a new, clean
sheet of paper
and
begins again
this time, making
sure the sky is bigger
Please contact Associate Professor Rosemary Weatherston, Department of English, at weatherr@udmercy.edu with questions or comments. Information about the special 25th issue of [sic] can be found in the Fall 2018 edition of Spiritus. This article was written by Weatherston, Associate Professor Mary-Catherine Harrison and Professor Nicholas Rombes.