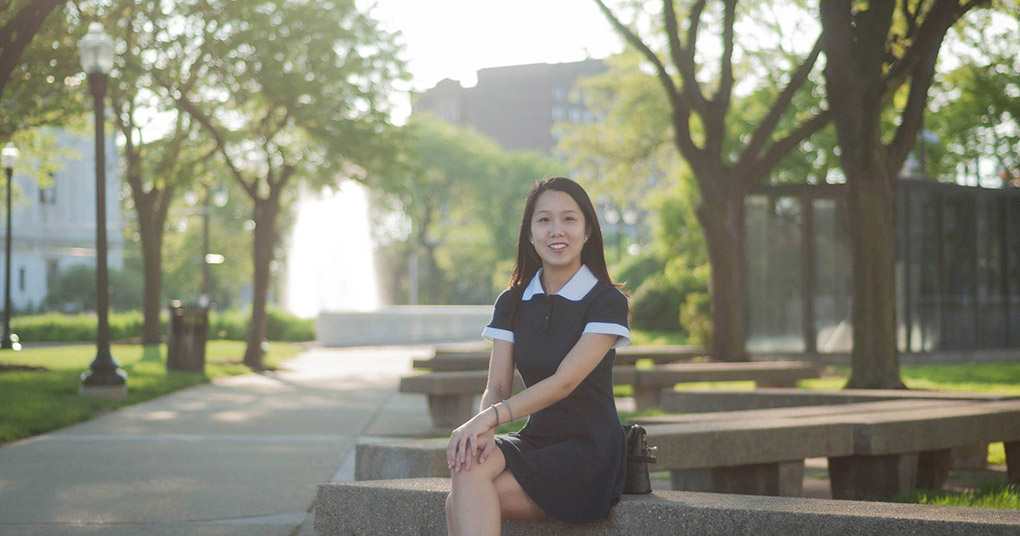 Detroit Mercy Biochemistry student Tiffany Tieu Ngo was recently chosen as one of only eight U.S. college students to serve as a student representative at the 2018 United Nations Framework Convention on Climate Change (COP24).  
Ngo will serve as a student representative for the American Chemical Society at the conference, which takes place in Katowice, Poland, from Dec. 3 to 14.  She is the second Detroit Mercy student in as many years to earn this prestigious honor. In 2017, Justin Pothoof, a Chemistry senior, attended the United Nations Framework Convention on Climate Change (COP23)
Mark Benvenuto, Ph.D., professor and chair of Detroit Mercy's Chemistry and Biochemistry programs, said it's easy to teach good students and he's been fortunate to have had students who excel academically and express a passion for the well-being of our environment. Ngo is one of those students.
"Tiffany is an outstanding young woman, who brings a great deal of passion to her studies and wants to use her academic training and experience to try and make a difference in the world," he said.
He also said that while working with her on the application, he explained that the process is competitive and that a great many talented students may not receive selection.
"It's important for students to give it a try," he said. "We were really glad and humbled to have two students selected two years in a row. My job was really to give her the push to get the application done."
For Ngo, having the opportunity to attend this international conference empowers her to use her voice when discussing environmental issues.
"Being selected is really quite wonderful because I personally believe that climate change is a big, big issue in our world today. I believe that going to this conference will shed some light on a lot of issues that big-figure politicians and activists will talk about and the conference will expand my knowledge on that," she said.
Ngo is also not shy about praising the role of her professors have played in her intellectual development and how important they were in terms of receiving this opportunity. 
"I love the University of Detroit Mercy so much," she added. "The professors here and in the Department of Chemistry and Biochemistry care for their students. They are really compassionate and want you to succeed. Where else can you get this level of education, involvement and experience?"
Benvenuto is eager to find out what Ngo will learn from her experience at COP24 in Poland.
"This experience will provide Tiffany with insight and perspective that only a few select students throughout our country are able to receive," he said. "It's a prestigious feat to land this kind of an opportunity and I'm extremely happy that she will be participating in this international event."
To watch a video regarding Ngo's selection, visit https://www.youtube.com/watch?v=BTVU-p8YCtE. For more about Detroit Mercy's Chemistry program, please visit  http://eng-sci.udmercy.edu/index.php.