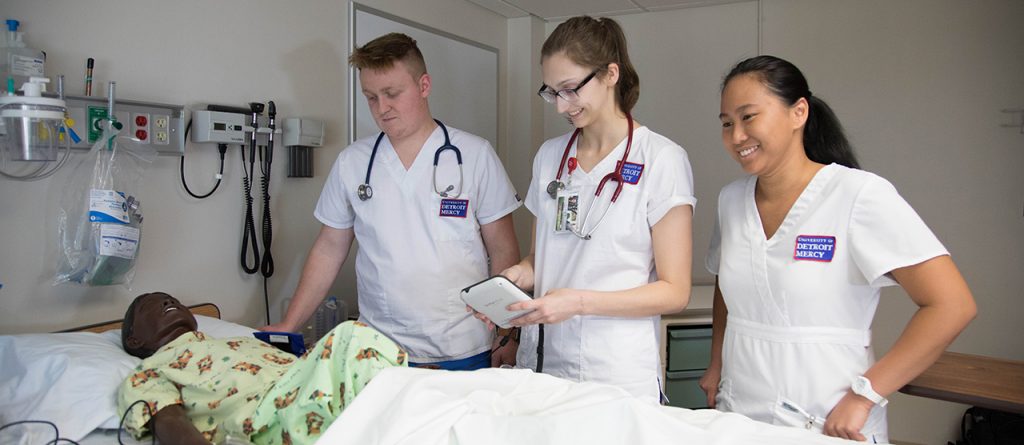 University of Detroit Mercy's College of Health Professions & McAuley School of Nursing (MSON) will offer a Part-Time Bachelor of Science in Nursing (PT BSN) program beginning in May and is seeking students to fill the first 30-seat cohort.
Like all Detroit Mercy's Nursing programs, the new part-time Bachelor of Science in Nursing track is accredited by the Commission of College Nursing Education (CCNE) of the American Association of Colleges of Nursing. The new track is built upon the full-time BSN track offered by the University, however the part-time program operates throughout the year and provides students the ability to graduate in eight semesters, attending nursing courses and clinical obligations three days a week year-round.
Neal Rosenburg, dean of the College of Health Professions & McAuley School of Nursing, said this track represents a new approach that provides working adults with a program tailored specifically to their busy lives.
"Mapping out a thoughtful and feasible sequencing of nursing courses for delivery with the intention of recognizing, valuing and celebrating the busy, working adult is challenging," he said. "Detroit Mercy's McAuley School of Nursing is answering this call.
"The launch of the new part-time track in the existing, rigorous nursing program will allow working adults an opportunity to pursue a baccalaureate degree in nursing at a reasonable pace. This program approach will help promote success in the academic setting while making sure students are able to maintain care of their work, family and health. I am thrilled to see this track begin at Detroit Mercy as we open up new possibilities for individuals seeking a career in nursing."
The PT BSN track will build upon the 66 college credits of the highly successful traditional/full-time BSN track option. Detroit Mercy will provide semester sequencing that allows students four consecutive days each week that do not require physical presence on campus or at any clinical/community sites. As a result, these important adjustments protect the PT BSN student's time to work or maintain a home-life balance.
In addition, this program offers a block rate tuition structure. There will be no tuition increases during the program as long as students successfully complete each course and progress as expected. The program's flexibility also gives working adults the chance to maintain their career and personal lives while also pursuing a degree in the nursing field. This can save the part time student $13,000 over the course of their degree.
According to the U.S. Department of Bureau Labor Statistics, the average salary for a nurse is $70,000 a year. Detroit Mercy's College of Health Professions & McAuley School of Nursing are also affiliated with nearly all hospital systems in southeast Michigan.
The program will begin May 7. For more information about admission requirements, please visit https://bit.ly/2ALkGEv, or contact Jenny Duncil at 313-993-2455 or dunciljl@udmercy.edu.
For more about Detroit Mercy's College of Health Professions & McAuley School of Nursing, please visit http://healthprofessions.udmercy.edu/index.php.