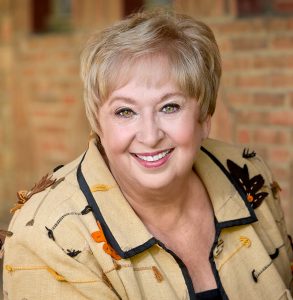 Each year, University of Detroit Mercy chooses an alumnus of each of its Colleges or Schools to honor as someone who has excelled in his or her profession, demonstrated outstanding leadership in work and devoted himself or herself in service to the larger community. Award recipients reflect the University's mission of excellence and service and bring pride to their alma mater.
This year the University will celebrate eight honorees — Detroit Mercy Law selected a husband-wife team — at a special ceremony Friday, April 12, in the Ballroom in the Student Union. We will introduce the award winners here until the event. If you are interested in attending the event, you can purchase tickets here.
Arlyce Seibert is, for generations of students, the face and heart of Cranbrook Schools.
She began a 47-year career as a history teacher in 1971, became department chair, adviser, then moved into administration first as head of Cranbrook Kingswood Upper School and, in 1986, director of Cranbrook Schools. She retired in July.
During her tenure she spearheaded many initiatives for which the private educational community is known — building a separate girls middle school, new locker facilities for student-athletes and an ice arena to accommodate girls hockey. Under her leadership, Cranbrook Schools became a testing site for curriculum ideas from the Edgerton Center at the Massachusetts Institute of Technology, the only such partnership in the Midwest. She was named an outstanding head of school for her transformative leadership by the Klingenstein Center for Independent School Education at Columbia University and is a past chair of the board of directors for the Independent Schools Association of the Central States.
This year's other honorees are:
Richard Kunnath '71, President, Charles Pankow Foundation — College of Engineering & Science
Janet Robinson '69, Provost Emerita, Lourdes College — College of Health Professions
Kathleen Reehil '67, Retired, Workplace Strategist, Herman Miller — School of Architecture
Ralph McDowell '86, Member, Bodman PLC, and Nancy Glen '86, Director, Customer Happiness, ardentCause L3C — School of Law
Allan Warnick, D.D.S. '64, Chief Forensic Odontologist, Wayne County — School of Dentistry
John Lewis, '74, Retired, Vice Chairman, Comerica, Inc. — College of Business Administration