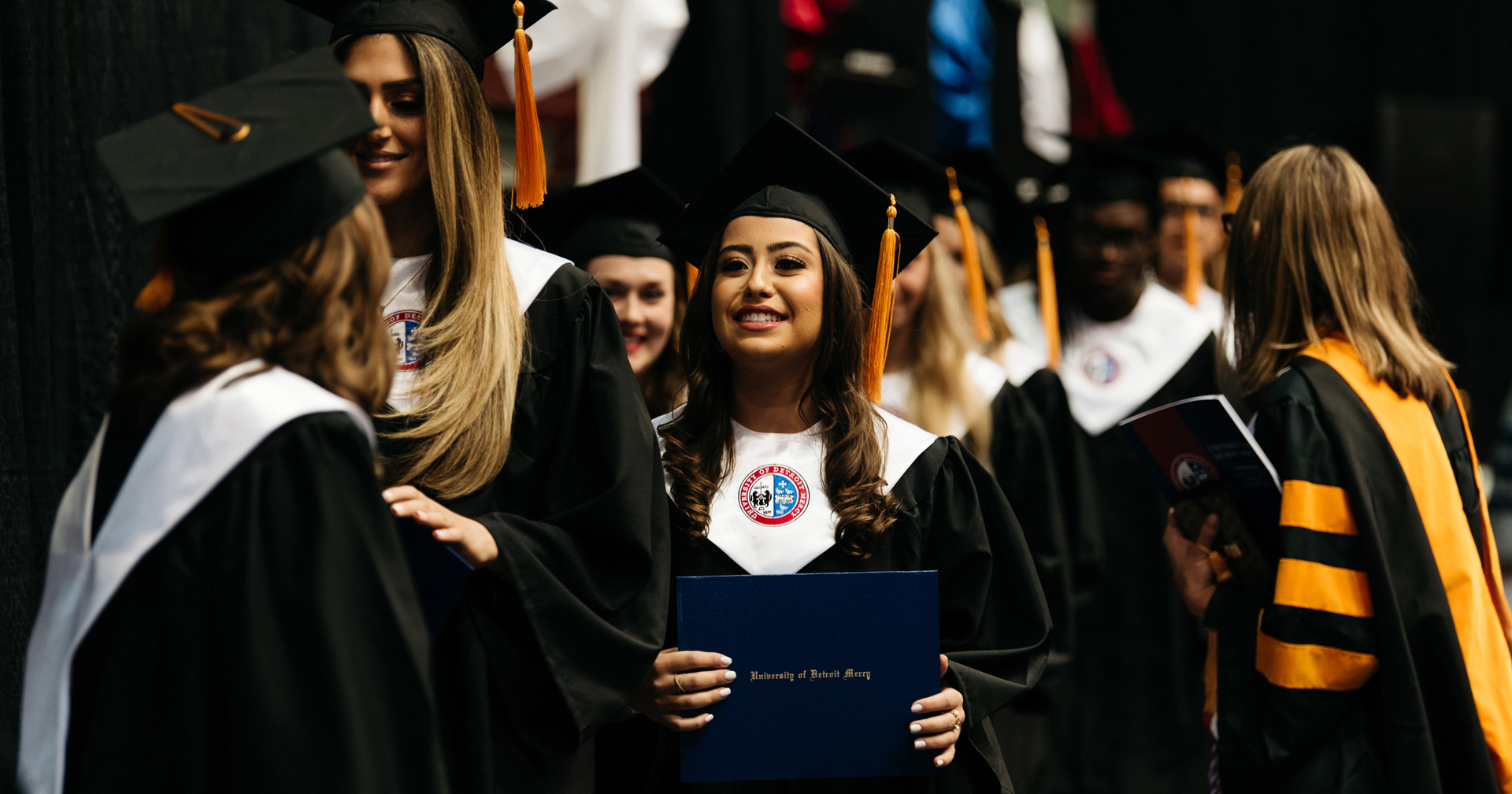 University of Detroit Mercy will award degrees to a total of 1,478 graduates at its annual commencement ceremonies on May 10 and 11 in Calihan Hall on the McNichols Campus.
Here's the breakdown of what you need to know.
School of Dentistry
The Detroit Mercy Dental Commencement Ceremony will take place on Friday, May 10, from 9:30 to 11:30 a.m. in Calihan Hall on the McNichols Campus. This year, 188 students will receive their certificates and degrees. A reception hosted by the Alumni Association will take place immediately after the ceremony in the Student Fitness Center.
This year the School of Dentistry commencement speaker will be Mark T. Murphy, D.D.S. '81.
Murphy has practiced in the Rochester area for more than 35 years. He is the lead faculty member for Clinical Education at ProSomnus Sleep Technologies, Principal of Funktional Sleep, serves as a guest lecturer at the University of Detroit Mercy School of Dentistry and is a regular presenter at the Pankey Institute.
He has served on the boards of directors of the Pankey Institute, National Association of Dental Laboratories, Identalloy Council, Foundation for Dental Laboratory Technology, St. Vincent DePaul's Dental Center and Dental Advisor. He is also a well-known international lecturer on leadership, practice management, communication, case acceptance, dental sleep medicine, TMD, treatment planning, and occlusion.
School of Law
The University of Detroit Mercy School of Law will celebrate the graduating Class of 2019 on Friday, May 10 at 5 p.m. in Calihan Hall on the McNichols Campus. This year, 174 graduates will receive their Juris Doctor degrees.
The commencement speaker this year is alumnus Joseph G. Vernon, Dual JD '05, principal and resident director of Miller, Canfield, Paddock, & Stone PLC's downtown Detroit headquarters. He is an experienced business lawyer and commercial litigator, specializing in complex commercial litigation and sports law.
In his 13 years at Miller Canfield, the oldest and one of the largest law firms in Michigan, Vernon has represented clients in a variety of industries in arbitration proceedings and in state and federal courts across the country. He has also served as lead counsel in a number of significant breach of contract, fraud, intellectual property, trade secret, shareholder oppression and automotive supplier disputes. Recently appointed as resident director, he also manages the firm's Detroit office, which has a team of 160 attorneys and staff.
The School of Law Commencement Ceremony will begin with members of the Class of 1969 leading the commencement procession as golden jubilee anniversary graduates. The Motor City Brass Quintet will accompany alumna Clare Sawicki '17 as she performs the national anthems of Canada and the United States. Detroit Mercy Law Dean Phyllis L. Crocker and University President Antoine M. Garibaldi will speak, in addition to graduate Christopher Stone, who was selected by classmates. Graduate Roeiah Epps will lead the prayer inspired by St. Thomas More. Edward Lennon '88, president of the Detroit Mercy Law Alumni Association, will close the ceremony by welcoming the Class of 2019 to the Alumni Association.
School of Law and School of Dentistry Baccalaureate Mass
The Class of 2019 and their families are invited to join their fellow graduates and the Detroit Mercy Law and Detroit Mercy Dental faculty and administration for the annual Baccalaureate Mass on Thursday, May 9 at 5 p.m. at Ss. Peter and Paul Jesuit Church, adjacent to the School of Law. Rev. Gilbert Sunghera, S.J., will preside. Graduates and guests may park in the Larned and Christ Church parking lots.
McNichols Campus Commencement Ceremonies May 11
On May 11, there will be two ceremonies: a 9:30 a.m. ceremony for graduate programs and a 2:30 p.m. ceremony for undergraduate programs.
This year, the May 11 ceremonies will include more than 725 graduates participating in exercises. A total of 1,116 students will receive their degrees: of this, 24 will receive doctoral degrees; 402 will receive master's and specialist degrees; and 690 will receive bachelor degrees. Approximately 82% of graduates are from Michigan.
Graduate Ceremony, 9:30 a.m., Calihan Hall: The commencement ceremony for graduate programs begins at 9:30 a.m. Antoine M. Garibaldi, Ph.D., president of Detroit Mercy, will deliver a keynote address to graduates. The ceremony will be followed by an 11:30 a.m. Baccalaureate Mass at Gesu Church, which is located at 17180 Oak Drive, Detroit, 48221.
Undergraduate Ceremony, 2:30 p.m., Calihan Hall: The commencement ceremony for undergraduate programs begins at 2:30 p.m. in Calihan Hall. This year's commencement speaker is Rip Rapson, president and CEO of The Kresge Foundation, a private, national foundation dedicated to expanding opportunities in America's cities through grantmaking and social investing.
Since his appointment in 2006, Rapson has led the 95-year-old foundation to adopt an array of grantmaking and investing tools to improve the economic, social, cultural and environmental conditions of urban life through six defined programs: arts and culture, education, environment, health, human services and community development in Kresge's hometown of Detroit. Kresge invests more than $160 million annually to foster economic and social change.
Nationally, Rapson has strengthened the philanthropic sector's role through convening, collaborating and supplementing community development activities in cities across the country. In Detroit, Rapson and the foundation provided central support to the "Grand Bargain," an unprecedented partnership between the philanthropic community, city pensioners, the state of Michigan and the Detroit Institute of Arts, to propel the city of Detroit's successful emergence from municipal bankruptcy in 2014.
The 2019 valedictorian is Mary Margaret Payne, who will receive her Bachelor of Science with a major in Chemistry. During her time at Detroit Mercy, she served as president of Protect Life, created the Christian Life Communities student prayer group and volunteered for two summers at Christ in the City in Denver, where she helped the homeless. In addition, she is a board member of Detroit Mercy's American Chemical Society, co-chair of service and spirituality for the National Jesuit Student Leadership Conference and chair of the Campus Ministry Student Advisory Board.  Currently, she is applying to the Community of the Franciscan Sisters of the Renewal in Brooklyn, N.Y.
This year, when looking for photos and posting congratulatory comments on social media, search for #detroitmercy2019.
For more information about commencement ceremonies, please see the Commencement website for more information.