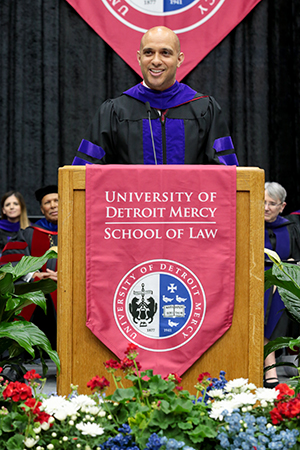 We are reprinting portions of the commencement speeches given at Detroit Mercy commencement ceremonies within the last weeks. Today's speech is by Joe Vernon, who spoke to the graduating class of Detroit Mercy Law at its commencement on Friday, May 10.
Vernon earned a Dual JD from University of Detroit Mercy School of Law in 2005 and he is a senior principal at Miller, Canfield, Paddock & Stone, PLC—the oldest and one of the largest law firm firms in Michigan—and the resident director of its downtown Detroit headquarters. In his 13 years at Miller Canfield, Vernon has represented clients in a variety of industries in arbitration proceedings and in state and federal courts across the country. He has served as lead counsel in a number of significant breach of contract, fraud, intellectual property, trade secret, shareholder oppression and automotive supplier disputes, and he has advised athletes and front office football personnel.
Vernon began his address with his story, in which he described early struggles with finding employment and the effect those struggles had on his confidence and sense of self-worth. He also spoke about the opportunities that often present themselves in times of adversity, the importance of recognizing them, and the impact a mentor can have on one's life.
After telling his story, Vernon offered three pieces of advice, speaking about the lessons he has learned on his journey and the anecdotes that taught them. What follows are selected excerpts of this advice:
Don't let anyone else tell your story. You will write your own story. Dream big. If someone doesn't believe in you, that's fine. If you stumble along the way, that's fine too. Those difficult moments don't define you. You define you. Believe in yourself and prepare for the opportunities that will come. They may not come in the form that you expect, so be prepared to recognize them. And then knock them out of the park. 
* * *
We need to listen to each other's stories. We've all got these unique perspectives. Wouldn't it be great if we listened to each other and learned from these perspectives. Listen to and appreciate the stories of others. It will make you a better lawyer, it will make yours a better law firm, and it will make the world a better place. 
* * *
Be kind… People will forget what you do and say, but they never forget how you made them feel. And the things you will regret the most in life are the times you weren't as kind as you should have been.   
After dispensing his advice, Vernon made a promise to the students:
Life will knock you down. And when you're down, there's a tendency to suffer alone.
But you can get up. As long as there's breath in your lungs and a beat in your heart, you can get up and fight again. And the person that gets up is invariably stronger than the person who was knocked down.
And you're not alone. The same family, friends, and mentors that are such a key part of your story—they are there for you. People who may not be with us anymore, but who dreamed of your success and happiness before you could dream of it for yourselves, they're with you always too. And there are people that you've never met that look up to you, admire you, and are rooting for your success. 
No matter what life throws at you, I promise you, you can always get up, and you're never alone.
Vernon then asked the students to make a special promise to him too. And he closed by speaking about a lawyer's calling to help people, and the reasons he believes the graduating students are entering one of the most wonderful and honorable professions.
Vernon's full speech is available online here.