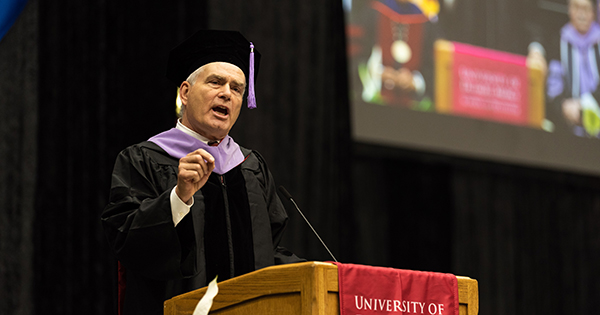 We are reprinting portions of the commencement speeches given at Detroit Mercy commencement ceremonies within the last weeks.
Today's speech is by Mark T. Murphy, D.D.S. '81, who spoke to the graduating class of Detroit Mercy Dental. Murphy has practiced in the Rochester, Mich., area for more than 35 years. He is the lead faculty member for Clinical Education at ProSomnus Sleep Technologies, Principal of Funktional Sleep, serves as a guest lecturer at the University of Detroit Mercy School of Dentistry and is a regular presenter at the Pankey Institute. He is also a well-known international lecturer on leadership, practice management and communication.
I'm going to give you three simple rules and then a way to measure your success going forward.
Do the right thing. Do your best. Treat other people the way you want to be treated.
Not earth-shattering stuff, is it?
You are going to be faced at times when you're challenged in dentistry to do your best and you're going to be asked to do less, you're going to be pressured to do less. You're going to be influenced to lean in a different direction and I say to you, you will be more successful when you look inside to your own moral compass and you do the right thing.
Do your best: Dentistry is hard and you're not always going to have a successful outcome, but if you're doing your best you can walk home and say, "I served my patient well that day."
Treating other people the way you want to be treated, I don't think that's a difficult concept. … What would you do if that was your brother in the chair? What would you do if that was your sister? How would you treat that patient if that was your mother, your aunt, your uncle, your grandfather? …
If you follow those three rules you are going to be a successful hygienist, you'll be a successful dentist, you will be a successful person, because those two things will become somewhat inseparable.
How do you measure your success? Well, I'm not sure that's an easy question to answer because success is one of those amorphous things, like Jell-O, it's hard to grab. Success can be measured in so many different ways. I would not begin to pretend to be the right person to measure what success is or what success isn't for you. But I will tell you this: In dentistry … you can measure success by watching a patient's journey with you.
Now I'm going to describe something to you something that I hope you take away with you and remember the rest of your careers that I stole from Mass … about six months ago. … As (Father Mike) was eloquently talking about a person's faith journey, I was thinking to myself, that's no different than a patient's journey. … We talk to our patients about the why we are going to do some dentistry. We talk about the ramifications, the what ifs, the consequences. We reach into their heads and we talk to them about the logical interpretation of action or inaction. But they don't select us, they don't select our treatment until we travel 18 inches from their head to their heart. Isn't that where it happens? When your patient comes to know how much you care, when that patient comes to trust you with your care. … That's how we can start to measure our success.
Watch the rest of that patient's journey in Murphy's full speech here.