Friday, September 11  – bending toward the weekend
This early in the academic year, hustle scrambling seems everywhere.  Solid working relationships that build around a semester's new slate of courses take time to work out, let alone become a steady work rhythm.   Usually the pace settles in, but here in September, it feels a lot like scrambling.
Pablo Neruda's "Keeping Quiet" is new to me this morning.  I had to read it slowly, several times to let it welcome me into its imagery — which is true for almost every poem.
A blessing as the work week winds down into the weekend.
john sj
Today's Post
Keeping Quiet
by Pablo Neruda
Now we will count to twelve
and we will all keep still.
For once on the face of the earth,
let's not speak in any language;
let's stop for one second,
and not move our arms so much.
It would be an exotic moment
without rush, without engines;
we would all be together
in a sudden strangeness.
Fishermen in the cold sea
would not harm whales
and the man gathering salt
would look at his hurt hands.
Those who prepare green wars,
wars with gas, wars with fire,
victories with no survivors,
would put on clean clothes
and walk about with their brothers
in the shade, doing nothing.
What I want should not be confused
with total inactivity.
Life is what it is about;
I want no truck with death.
If we were not so single-minded
about keeping our lives moving,
and for once could do nothing,
perhaps a huge silence
might interrupt this sadness
of never understanding ourselves,
and of threatening ourselves with death.
Perhaps the earth can teach us
as when everything seems dead
and later proves to be alive.
Now I'll count up to twelve
and you keep quiet and I will go.
~ Pablo Neruda
Translation from Spanish
p.s.              Mission Micro Grant (MMG): Year 7:  Yesterday 20 women and men came together in the Jesuit Residence about 3:00 and listened to each other's stories about micro grants created in the past year.   Dr. Rosemary Weatherston suggested the MMG idea at a faculty gathering in 2010 and now she directs the program  (i.e., tiny grants ($50—>$250) for proposals  that connect an applicant's job and work place, with some aspect of UDM's Mission and Identity).   The process of writing a proposal for so small an amount, and the simplicity of the writing and evaluating processes, works to stimulate remarkable creativity — ordinarily compassionate and playful.  Many proposals come from teams; nearly all generate lots of talk at the work place level.
My favorite single proposal asked for $95.00 to outfit 4 pedicure kits used by nursing students as part of course requirements when they served stints in a homeless women's shelter.  Students learned how to give pedicures to homeless women.  The grant was awarded in MMG's year 1 2008, long before Pope Francis made washing the feet of men and women in an Italian prison an world-wide icon.  It fits UDM's self understanding pretty well.
(http://www.udmercy.edu/mission/microgrant/index.htm)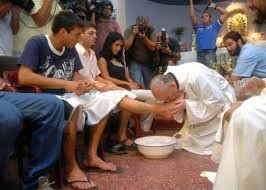 Pope Francis with prisoners –
washing of feet, Holy Thursday 2011