Friday, March 2
"perhaps a huge silence
might interrupt this sadness
of never understanding ourselves"
Mary Ann and I have been soul friends since the mid-1970s in Philly.  Our lives do not offer us many blessings of face time but we have traveled the world with our mutual stories, sometimes pictures, sometimes poems.  She wrote me early this week, a story taking me with her across 3 continents.   Somewhere among the stories she placed a poem by a Pablo Neruda, long-loved by both of us.  I've tasted "Keeping Quiet" a few times already.   Now I will pass it along to the c. 2500 readers of this list.  Two gifts here from me:  some hints of Mary Ann over decades of my life and the power of Neruda's imagination.
Our pretty magical fluff snow of yesterday is still here though Weather.com predicts sun and some melt this afternoon.  I know I often encourage reading out loud with pauses; Neruda will reward that too.   Have a blest weekend.
john sj
Today's Post    "Keeping Quiet"
Now we will count to twelve
and we will all keep still
for once on the face of the earth,
let's not speak in any language;
let's stop for a second,
and not move our arms so much.
It would be an exotic moment
without rush, without engines;
we would all be together
in a sudden strangeness.
Fishermen in the cold sea
would not harm whales
and the man gathering salt
would not look at his hurt hands.
Those who prepare green wars,
wars with gas, wars with fire,
victories with no survivors,
would put on clean clothes
and walk about with their brothers
in the shade, doing nothing.
What I want should not be confused
with total inactivity.
Life is what it is about…
If we were not so single-minded
about keeping our lives moving,
and for once could do nothing,
perhaps a huge silence
might interrupt this sadness
of never understanding ourselves
and of threatening ourselves with
death.
Now I'll count up to twelve
and you keep quiet and I will go.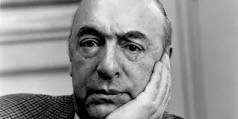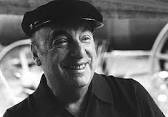 b. July 1904  d. September 1973
https://en.wikipedia.org/wiki/Pablo_Neruda
Extravagaria : A Bilingual Edition
by Pablo Neruda (Author), Alastair Reid (Translator)
Noonday Press; Bilingual edition (January 2001)