Weather.com  says that it's -4º  at 8:00 am, peaking at +11º at 2:00 pm before heading down to -12º about 10:00 pm  — if you like high pressure and clear skies (n.b., I do.)  this is your kind of winter day.
from President Garibaldi's Jan 18 email to our Board of Trustees:
"Our students and community are preparing for three events to honor Dr. Martin Luther King, Jr. Leading into MLK Jr. Week, members of the Princeton Street Block Club will be on campus today for cider, donuts, fun, and games exploring the link between racial, economic, and food justice. On Monday, students, staff and community members will board up vacant homes and clean lots around the Fitzgerald Community for the "Make it a Day On, Not a Day Off" event. And on Thursday, students from Osborn High School (Detroit Public Schools) will be on campus to meet Detroit Mercy students for "Youth in Action Day." They will also learn from Public Safety how they can be safe and enhance their own communities."
"But the end is reconciliation;
the end is redemption;
the end is the creation of the beloved community.
It is this type of spirit and this type of love
that can transform opposers into friends . . .
It is an overflowing love which seeks nothing in return."
MLK 1957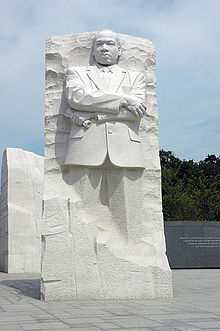 Martin Luther King  (January 15, 1929  – april 4, 1968)
https://en.wikipedia.org/wiki/Martin_Luther_King_Jr.