"Just having an idea of what you want to do and having a plan, I would say is probably the biggest thing about being a pre-med student…"

Recent Detroit Mercy Graduate and now Alum Garret Weaver joined Pre-Health Advisor Carmen Gamlin for a four question interview that entails his time as a Detroit Mercy Titan, his journey to applying for medical school, benefits of being a Pre-Health Titan and to offer advice for students applying for medical school. Here are the highlights from the interview.
1. Congratulations Garret on both finishing with your Bachelors at the University of Detroit Mercy. I see that you are heading to Medical School. Share a fond memory about your time at the University.
The one I always go with, I know it's not like a specific memory but it's always something I'll remember is just walking around the school. I mean, you know it's a small community, close community; just walking around I feel like everywhere I went I would see someone I know and just stop and talk to someone. Literally every class, every day and I just feel like for a college that is very rare.
2. Applying to Medical school takes planning and patience. Can you share any strategies for Titans?
Garret has been accepted to Western Michigan University Homer Striker, MD School of Medicine. He provides some strategies that helped him during the application process.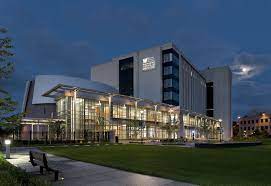 My biggest thing was start early. I don't like want to freak anyone out, but I mean it's obviously a lot of work. It's a lot of writing and it's something that you should really invest time into… They actually do read those secondaries. They're not just there for show, they actually read them. So just taking the time to actually plan.

It is a long process… some people are gonna get in early, some people going to get in later… You'll be alright. Just do what you can do, control what you can control and you're going to be fine.
3. Looking back on your Detroit Mercy experience, what was a perk of being a pre-health Titan?
Garret recognizes Pre-Health Advisor Carmen Gamlin as a great benefit of being a pre-health Titan. During his interview, he explains how she has been a valuable resource to him during his application process!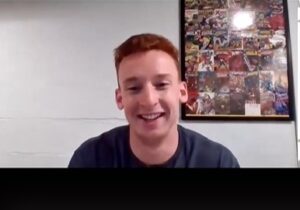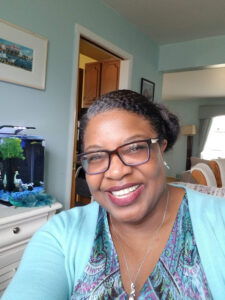 Oh yeah, there's definitely perks, like being able to just communicate with teachers regularly.  I can text my professors. I feel like at (most other schools) you can't do that and I feel like it's even better now to be a pre health student … The fact that we have (a Pre-Health Advisor) as a resource is ideal.

4. What was something that surprised you?
Well, I kind of mentioned, I was surprised that they actually read the secondaries…How many times you can read a primary app over and you can still make a spelling error.
Titans you can connect with Garret, weavergd@udmercy.edu. He invites Titans to connect with him via Linkedin!