Detroit Mercy Pre-Health Advising Presents: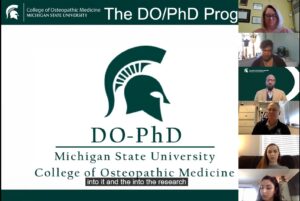 We need more Physician Scientists!
Information Session with MSUCOM DO and DO/PhD
Admission Representative, Craig Boyd from the MSUCOM DMC Site 
Hosted by ReBUILDetroit student Adrian Arrington
Brian Schutte, PhD Co-Director of MSUCOM DO/PhD Program
Michelle Volker, Academic Program Coordinator, CHRS CFMLAS
Alex Moauro DO-PhD Class of 2024, Regis University, 2015
Erika Arno, DO-PhD Class of 2024, University of Scranton, 2016

Representatives from the MSUCOM DO/PhD program presented on the application process, timeline and support for their bustling Physician Scientist program. The Co-Director and the 2 student DO-PhD representatives were all from Jesuit Colleges and Universities!
Why do we need DO-PhD physician-scientists?
The physician-scientist population in the U.S. is smaller and older than it was 25 years ago
There is a current critical shortage of physician-scientists
The physician-scientist is a vital member of the medical research community
The physician-scientist can collaborate with both Ph.D. scientists and health care providers
Scientific questions the physician-scientist asks reflect their experiences with patient care.
Incentives to pursue a DO-PhD degree
Reward of translating scientific research into patient therapy
Finding an answer to a medical puzzle
Being on the cutting edge of science in finding new therapies and/or disease cures
Receiving stipends and significant tuition reductions
MSU College of Osteopathic Medicine students have three great options for completing their first two years of medical school. Whether you decide to study at the Detroit Medical Center site, on the MSU campus in East Lansing or at the Macomb University Center in Clinton Township, you'll get the same exceptional preclinical experience. One campus, three sites. Learn more about MSUCOM's  3 sites: https://youtu.be/CVy6bKVuAg0
If you are in need of pre-health advising and plan to be a University of Detroit Mercy student then schedule an appointment with Carmen Gamlin via https://calendly.com/prehealthadvisor