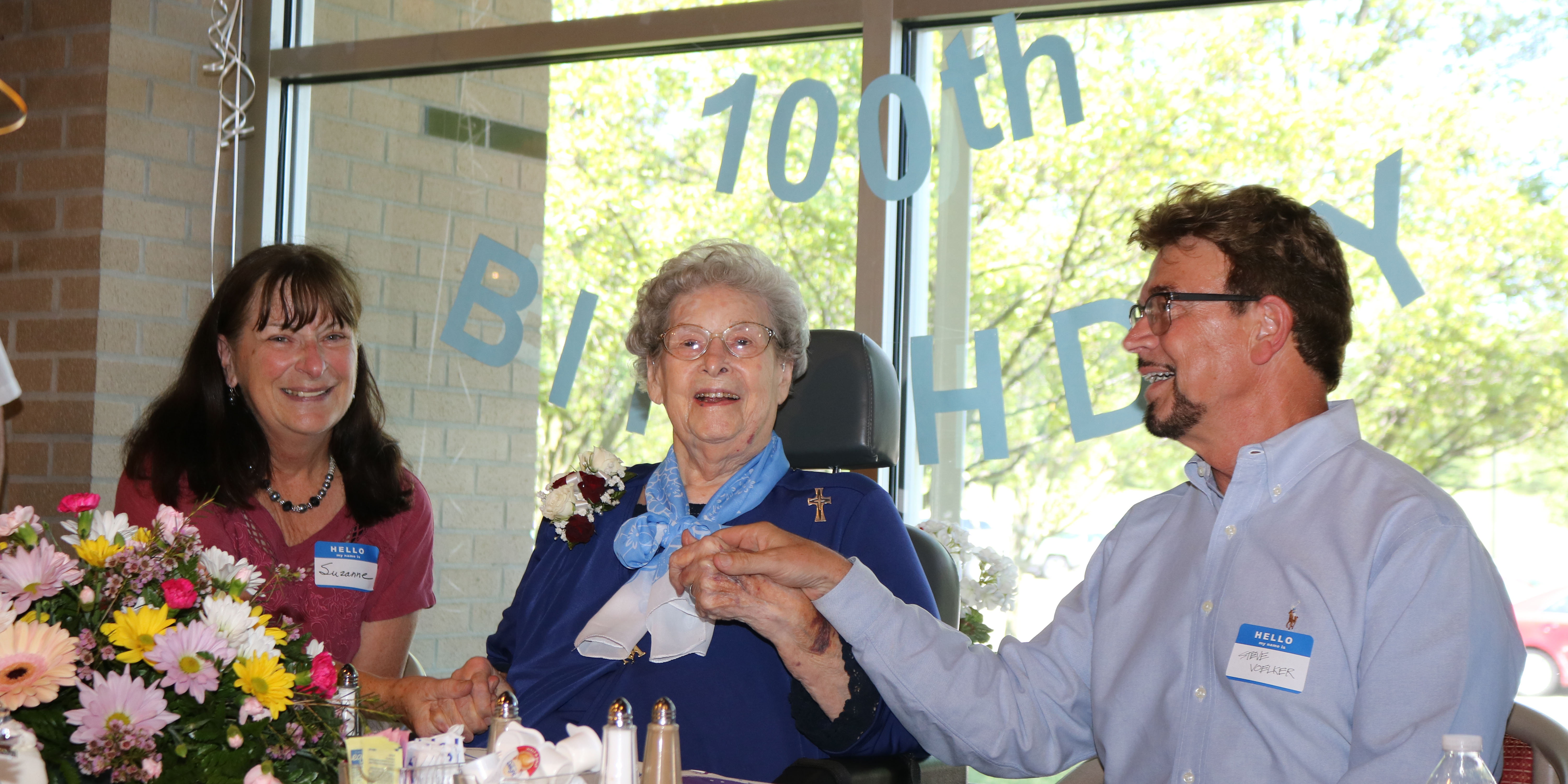 Sister Mary Maurita Sengelaub, RSM, celebrated her 100th birthday Thursday, June 28, surrounded by about 100 people who know and love her including Sisters of Mercy, staff, friends, family and former professional colleagues.
During her years in ministry, Sengelaub — who graduated from Mercy College of Detroit in 1949 — has had a lifetime of firsts. She was the first woman to head the Catholic Hospital Association (now Catholic Health Association) and first non-cleric to head the CHA when she was elected president in 1970. With her many years of experience as a hospital administrator and leader, she was also instrumental in establishing the first Catholic healthcare system in Australia.
On her birthday, she added another first: She was the first member of the Sisters of Mercy order to be featured in a commemorative front page of Crain's Detroit Business. "We celebrate with Sister Maurita and her extended family because she's such a devoted reader of Crain's Detroit Business and our 'sister' publication, Modern Healthcare," said Crain Group Publisher Mary Kramer in presenting this custom Page 1.
Born in Reed City, Mich., Sister Maurita graduated from St. Mary's School of Nursing in Grand Rapids in 1940. The next five years would take her to staff nursing positions in Reed City and Bay City hospitals before she entered the Sisters of Mercy in September, 1945.
From then on her life's story as a Sister of Mercy was one of serving in numerous healthcare positions, from nursing to teaching at Mercy College in Detroit, to hospital administration at St. Mary's Hospital in Grand Rapids. She also served multiple terms in elected leadership for the Sisters of Mercy at both the provincial and national level.
Always attentive to unmet needs, in 1969 she obtained federal funding to start the Migrant Health Program (now MHP Salud) for migrant workers along the East Coast. The program has expanded and today also serves workers in Midwestern states.
Her most notable contributions were made in leadership of healthcare organizations. As the President of CHA, she developed plans to create healthcare systems. After "retiring" from religious community leadership, she became a consultant and advisor within Mercy Health Services and consulted with numerous religious congregations to develop health systems both nationally and internationally. Her work with the Sisters of St. John of God resulted in the establishment of the first Catholic healthcare system in Australia.
In 2017, Sister Maurita was honored for her lifetime of work with the Spirit of Detroit Mercy Alumni Achievement Award, representing the College of Health Professions & McAuley School of Nursing.
Sister Maurita's more than 60 years in healthcare leadership continues to inspire those who have known her.
Currently, she lives at Mercy Life Center in Farmington Hills, Mich. She stays current about health care issues in the United States and across the world. She now takes great joy in her time to pray for those in need and for affordable health care. Her life story challenges all of us to live life fully using God's gifts at each stage of our lives.