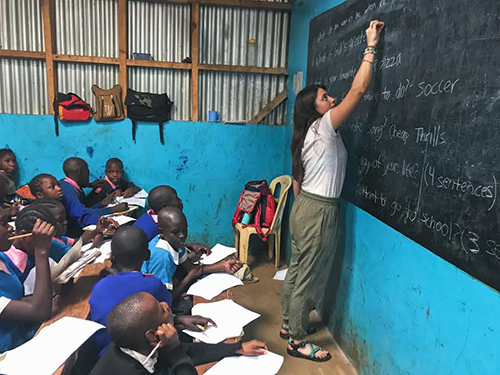 We know this is a blog for graduates of Mercy College of Detroit, University of Detroit and University of Detroit Mercy, but we also know alumni are interested in what current students are doing. From time to time, we feature a profile of one of our Titans who we think you would be proud to know.
Sarah Hirschmann is, quite simply, a doer.
She dreamed of helping people in Africa so she volunteered as a teacher in Kenya for six weeks this past summer.
When she visited Haiti as a high school student and was inspired to do more, she organized her own nonprofit organization "One Kid at a Time" and has been running it ever since.
When she felt she was doing so much on her trips around the world, but not enough at home, she began organizing an after-school-program for a Detroit elementary school.
When Hirschmann — who plays goalie for Detroit Mercy's women's soccer team — sees an opportunity to help children in need, she takes action.
"Once you get involved, you're changed," Hirschmann said. "I see kids and hear their dreams and realize that they are just like every other kid. They were just like me growing up, but because of circumstances, they don't get the opportunities they deserve. I just want them to have a fair chance to fulfill their dreams."
Read the full article about how she plans to help many Detroit-area kids here. For a radio interview with Hirschmann, click here.