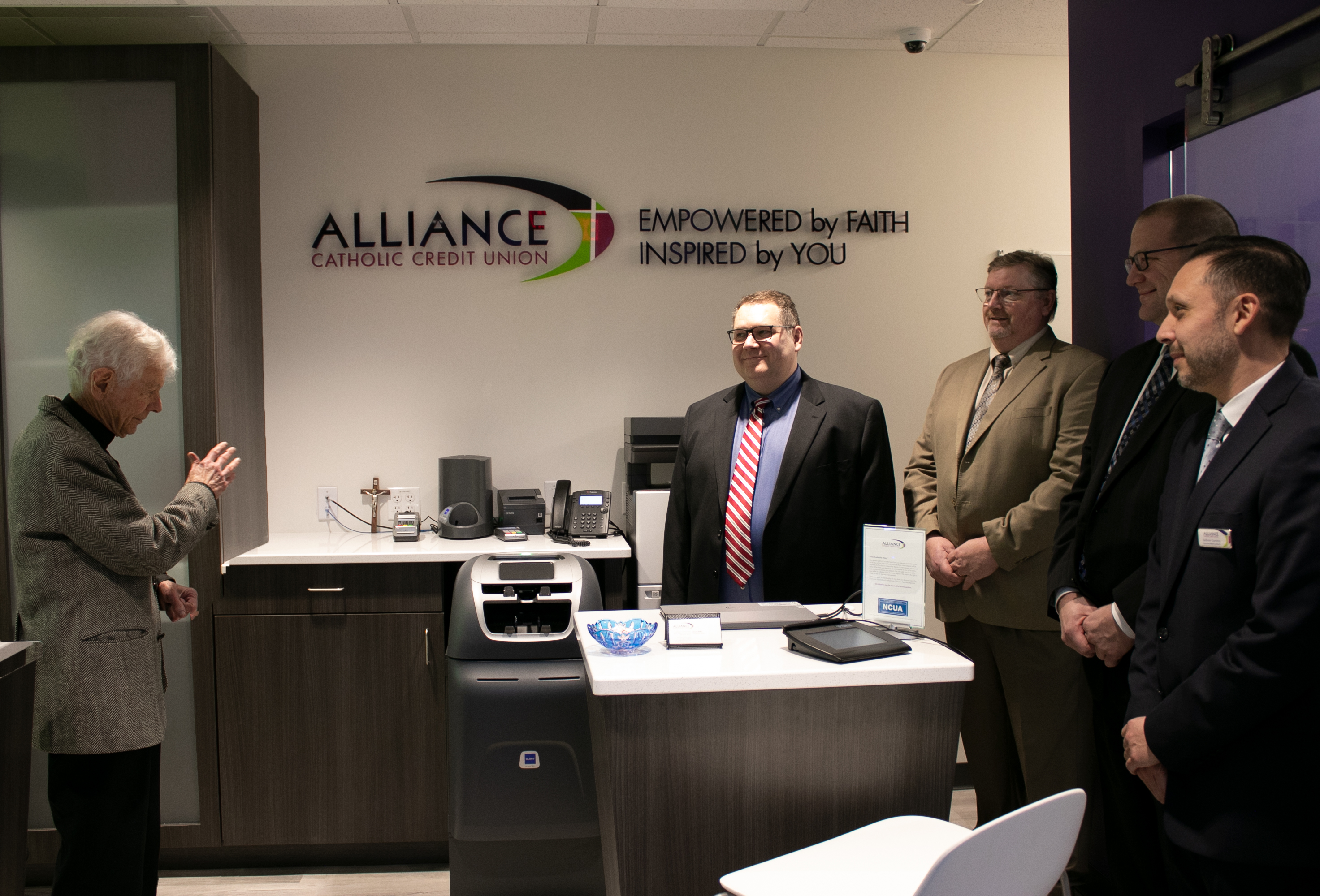 Alliance Catholic Credit Union (ACCU), a longtime partner with Detroit Mercy, has opened its newest branch on the McNichols Campus in the North wing of the Student Union. It is ACCU's tenth branch, and its second in the city of Detroit.
For many years, ACCU has partnered with Detroit Mercy, sponsoring events such as Colleague Development Day and the grand opening of the College of Business Administration's new PRIME Center in the fall
ACCU held a grand opening for the new branch on Jan. 15, following an earlier event exclusively for students. In remarks at the event, Dean of the College of Business Administration Joe Eisenhauer, who helped bring the new branch to McNichols, said there would be three benefits to the University: the convenience of on campus financial services, opportunities for business students to gain professional experience through internships,and a reinforcement of the University's Catholic identity.
"We're deliberately partnering with Alliance Catholic Credit Union because they believe, as we do, that faith, values, and social responsibility are complementary to good business," Eisenhauer said. "From now own, all visitors to this campus, including prospective students on Visit Days, alumni during Homecoming, sports fans attending Titan basketball games, and other guests who pass through the center of campus, will see further evidence of our commitment to our Catholic ideals. "
Fr. Jerry Cavanagh, S.J., the Charles T. Fisher III Chair of Business Ethics, said a blessing at the opening of the branch.
"Less than 12 months ago, that space was a storage room. Now it is a very unique space that can offer a full array of financial products and services with Detroit Mercy students running the transactions," said Dan Davidson, executive vice president and chief operations officer for Alliance, said. "I'm excited to see how this location can positively impact the financial lives of the students, faculty, staff and alumni."
Several business majors, including Peyton Thomas, Donald Smith, and Grant Miller, received training over the summer at existing ACCU branches, in preparation for their internships as staff members in the new branch.
Financial services at the new Alliance Catholic Credit Union branch are available to alumni as well as students and employees of the University. The branch is open 11 a.m.-4 p.m. Monday through Friday.