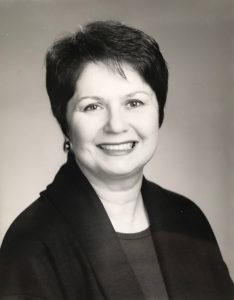 Each year, University of Detroit Mercy chooses an alumnus of each of its Colleges or Schools to honor as someone who has excelled in his or her profession, demonstrated outstanding leadership in work and devoted himself or herself in service to the larger community. Award recipients reflect the University's mission of excellence and service and bring pride to their alma mater.
This year the University will celebrate eight honorees — Detroit Mercy Law selected a husband-wife team — at a special ceremony Friday, April 12, in the Ballroom in the Student Union. We will introduce the award winners here until the event. If you are interested in attending the event, you can purchase tickets here.
Kathleen Reehil, AIA, is one of the first female graduates of the School of Architecture after it became accredited as independent from the College of Engineering & Science, launching a stellar career that concluded in 2009 at Herman Miller.
Previously, she was a firm leader at Smith Group in Detroit as Director of Interior Design, a senior associate at Gensler and served as Architecture and Design Manager for Knoll, Inc. She played important roles on many award-winning projects, including General Motors' new global headquarters at the Renaissance Center, the DaimlerChrysler Technology Center in Auburn Hills, the Defense Intelligence Agency Headquarters in Washington, D.C., and Domino's Farms in Ann Arbor.
She is also one of only a few females to serve on the State Board of Architects, a body that regulates the practice of architecture.
Reehil has established an endowed scholarship for the School of Architecture to honor her late husband, Paul, who served as an adjunct professor in the School for many years.
This year's other honorees are:
Allan Warnick, D.D.S. '64, Chief Forensic Odontologist, Wayne County — School of Dentistry
Janet Robinson '69, Provost Emerita, Lourdes College — College of Health Professions
Richard Kunnath '71, President, Charles Pankow Foundation — College of Engineering & Science
Arlyce Seibert '71, Retired Director of Schools, Cranbrook Schools — College of Liberal Arts & Education
John Lewis, '74, Retired, Vice Chairman, Comerica, Inc. — College of Business Administration
Ralph McDowell '86, Member, Bodman PLC, and Nancy Glen '86, Director, Customer Happiness, ardentCause L3C — School of Law