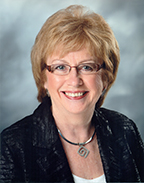 Each year, University of Detroit Mercy chooses an alumnus of each of its Colleges or Schools to honor as someone who has excelled in his or her profession, demonstrated outstanding leadership in work and devoted himself or herself in service to the larger community. Award recipients reflect the University's mission of excellence and service and bring pride to their alma mater.
This year the University will celebrate eight honorees — Detroit Mercy Law selected a husband-wife team — at a special ceremony Friday, April 12, in the Ballroom in the Student Union. We will introduce the award winners here until the event. If you are interested in attending the event, you can purchase tickets here.
Janet Hoey Robinson is a leader in nursing, education and community service.
She started on this remarkable path at Mount Carmel Mercy Hospital in Detroit upon graduation from Mercy College of Detroit. She entered higher education and taught at nursing schools in Oklahoma and at Mercy College of Detroit before moving to Ohio, where she began a long career at Lourdes College as both faculty and an administrator.
She served as associate director of curriculum and instruction, professor, associate dean, vice president for academic affairs, provost and interim president. In her many roles she helped the university nearly double its enrollment, added new degrees and graduate programs, increased the size and improved the quality of faculty, established Lourdes' first inter-collegiate sports program and paved the way for the building of the first three buildings to be built on Lourdes' campus in 40 years. Much of this work is documented in publications.
Upon retirement, she was granted the title Provost Emeritus. She is a founding member and trustee of Compassion Health Toledo clinic and has served on the boards of healthcare and educational organizations.
This year's other honorees are:
Allan Warnick, D.D.S. '64, Chief Forensic Odontologist, Wayne County — School of Dentistry
Kathleen Reehil '67, Retired, Workplace Strategist, Herman Miller — School of Architecture
Richard Kunnath '71, President, Charles Pankow Foundation — College of Engineering & Science
Arlyce Seibert '71, Retired Director of Schools, Cranbrook Schools — College of Liberal Arts & Education
John Lewis, '74, Retired, Vice Chairman, Comerica, Inc. — College of Business Administration
Ralph McDowell '86, Member, Bodman PLC, and Nancy Glen '86, Director, Customer Happiness, ardentCause L3C — School of Law